Non molto a che vedere con l'ottima stagione primaverile 2014
Se ho fatto casini correggetemi 
Omakase Mamitasu
Kids
Studio TBA
March 31, 2015
The main characters of Omakase Mamitasu are 10 cats. Nakagawa owns 10 cats in real life, and she adores one in particular named Mamitasu, the anime's namesake. The anime depicts the slapstick comedy of the idiosyncratic 10 cats and the folks in the unusual "Nakagawa family."
While the anime is aimed at children, its production committee says that the heartfelt story will remind a wide range of generations of something comforting that they may have forgotten in recent times. The anime is slated to air for one year.
…
Battle Spirits: Burning Soul
Kids · Shounen
Sunrise
April 1, 2015
?
…
Tamagotchi! Tamatomo Daishuu GO
Comedy · Fantasy · Kids
OLM
April 2, 2015
?
…Per adesso c'è ben poco da commentare
Danna ga Nani wo Itteiru ka Wakaranai Ken 2 Sure-me
Seinen · Slice of Life
Seven
April 2, 2015
The anime follows the daily life of an earnest, hardworking office lady named Kaoru and her otaku husband, Hajime, who is totally immersed in a certain huge net bulletin board system.
Se a qualcuno è piaciuta al prima stagione
Yahari Ore no Seishun Love Comedy wa Machigatteiru. Zoku
Romance · School
Feel
April 2, 2015
Second season of Yahari Ore no Seishun Love Comedy wa Machigatteiru.
Batman Returns
Re-Kan!
Comedy · School · Seinen
Pierrot Plus
April 2, 2015
The story centers around Hibiki Amami, a girl who can see ghosts and other supernatural phenomena in her surroundings. The story follows her daily life with both her friends and the otherworldly.
Sprizza yawn da tutti i pori
Mahou Shoujo Lyrical Nanoha ViVid
Action · Magic · Shounen
A-1 Pictures
April 3, 2015
Set 4 years after StrikerS, Nanoha finally has time to get off her feet, now explore the Nanoha world in Vivio Takamichi's shoes and her device, Sacred Heart.
Mai visto niente di Nanoha, ma il mio istinto mi dice che questo sarà spazzatura
Dungeon ni Deai wo Motomeru no wa Machigatteiru no Darou ka?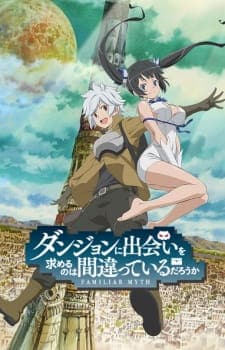 Action · Adventure · Comedy · Fantasy · Romance
J.C.Staff
April 3, 2015
The story takes place in the town of labyrinths, Orario, also called "Dungeon." Vel Clanel is a newbie adventurer that admires "Having a fateful meeting with a person of the opposite gender." One day during an adventure, he is attacked by a Minotaur. Close to destruction, he is saved by a top-class female adventurer, Eyes Warenstein. He falls in love with her at first sight, and begins actions to become an adventurer that is on her level. He later encounters Hestia, a god called a "Lolita god" due to her stature who falls in love with him.
La lunghezza del titolo mi mette, quantomeno, all'erta
Nagato Yuki-chan no Shoushitsu
Comedy · Romance · School · Seinen
Satelight
April 3, 2015
Nagato Yuki, the shy president of the literature club, has never been very sure of herself around other people. But around Kyon, the only boy in the tiny, three-person club, Yuki finds herself faltering even more than usual. For Kyon, and for her precious club, Yuki must find her confidence and let her true personality shine!
Haruhi, così come Bakemonogatari, è una di quelle serie che sarebbe stato meglio si fosse fermata alla prima stagione
Vampire Holmes
Mystery · Supernatural · Vampire
Studio TBA
April 3, 2015
An anime adaptation of the smartphone game that features a character named Holmes in London, but against his name, he is a private detective who dose not reason, or not even explain mysteries. However, he always solves the cases requested. He secretly undertakes a mission from the Metropolitan Police of London to search vampires.
"An anime adaptation of the smartphone game"
Shokugeki no Souma
Ecchi · School · Shounen
J.C.Staff
April 3, 2015
Yukihira Souma's dream is to become a full-time chef in his father's restaurant and surpass his father's culinary skill. But just as Yukihira graduates from middle schools his father, Yukihira Jouichirou, closes down the restaurant to cook in Europe. Although downtrodden, Souma's fighting spirit is rekindled by a challenge from Jouichirou which is to survive in an elite culinary school where only 10% of the students graduate. Can Souma survive?
Il manga gode di una certa fama, il PV non mi sembra ne carne ne pesce (scusate)
Jewelpet: Magical Change
Kids · Magic · Shoujo
Comet
April 4, 2015
?
?
Denpa Kyoushi
Comedy · Harem · Romance · School · Shounen
A-1 Pictures
April 4, 2015
The story centers around Junichirō, a young man obssesed with manga, anime and games. He was a young genius who published papers in the journals Nature and Science when he was only 17. However, after graduating college, he became a NEET (Not in Education, Employment, or Training) absorbed in his anime blog. Unable to watch Kagami throw away his life, his sister Suzune gets him to work at the Ichō Academy she attends. The head of the school's board, Koyomi Hiiragi, assigns Kagami to his new life as a teacher.
Bleah
Kyoukai no Rinne
Comedy · Romance · School · Shounen · Supernatural
Brains Base
April 4, 2015
As a child Sakura Mamiya mysteriously disappeared in the woods behind her grandma's home. She returned whole and healthy, but since then she has had the power to see ghosts. Now a teenager, she just wishes the ghosts would leave her alone! At school, the desk next to Sakura's has been empty since the start of the school year. Then one day her always-absent classmate Rinne Rokudo shows up, and he's far more than what he seems!
Della Takahashi ho adorato Maison Ikkoku (puntualmente non citato nel trailer), molto meno tutto il resto, men che mai Inuyasha, che sembra, ad occhio, il più simile a questo
Owari no Seraph
Drama · Shounen · Supernatural · Vampire
Wit Studio
April 4, 2015
One day, a mysterious virus appeared on Earth which killed every infected human over the age of 13. At the same time, vampires emerged from the world's dark recesses and enslaved mankind. Enter Hyakuya Yuuichirou, a young boy, who along with the rest of the children from his orphanage, are treated as livestock by the vampires. Even in captivity, Yuuichirou dreams big. He dreams of killing vampires. He dreams of killing them all.
Degli anime primaverili dovrebbe essere quello con più possibilità di diventare un successo commerciale, a voi dedurre se la cosa sia un bene o un male
High School DxD BorN
Action · Comedy · Demons · Ecchi · Harem · Romance
TNK
April 4, 2015
The original light novel series with Miyama-Zero's art centers around Issei Hyōdō, a dim-witted, lecherous second-year high school student who is killed by a girl on his first date ever. Issei is reincarnated as a devil, and from that day forward, he serves as an underling of Riasu, a high-level devil who is also the prettiest girl on Issei's campus.
Se siete amanti della serie guardatelo
E fatevi vedere da uno bravo
Gunslinger Stratos: The Animation
Action · Sci-fi
A-1 Pictures
April 4, 2015
Anime adaptation of Square Enix's arcade action game Gunslinger Stratos.
Tratto da un gioco il cui soggetto originale dovrebbe essere di Urobuchi, per quell che può valere oramai.
Se si considera il livello medio (ma anche i picchi alti) degli anime tratti da videogiochi…
Fate/stay night: Unlimited Blade Works (TV) 2nd Season
Action · Fantasy · Magic · Romance · Shounen · Supernatural
ufotable
April 4, 2015
Second cour of the new Fate/Stay Night adaptation.
Non sono proprio il fan più sfegatato della prima stagione, ma la considero comunque buona
Plastic Memories
Sci-fi
Dogakobo
April 4, 2015
This story takes place in a future not too far away when androids that look exactly like humans begin to spread across the world. The android production company SA Corp. produced Giftia, a new kind of android that has the most amount of emotion and human-like qualities out of any other model ever seen. However, due to problems in technology, the androids have a service life, and once they pass that, they... Well, it gets pretty bad. For this reason, SA Corp. creates a terminal service in order to retrieve Giftia that have gone past their service life. A new employee at the terminal service named Tsukasa Mizugaki forms a team with the Giftia Isla to retrieve the other androids, but...
Pare una versione moe di chobits, che non è che lo fosse poco di suo
Uta no☆Prince-sama♪: Maji Love Revolutions
Comedy · Harem · Romance · School · Shoujo
A-1 Pictures
April 4, 2015
According to reports by the attendees of Sunday's "Uta no☆Prince-sama♪ Maji Love Live 3rd Stage" event, a third anime adaptation of the otome game "Uta no☆Prince-sama♪" was announced for 2015.
Ha già più di 9 su mal, imperdibile
Tesagure! Bukatsumono Spin-off Purupurun Sharumu to Asobou
School · Slice of Life
Studio TBA
April 4, 2015
Sequel to the Tesagure! Bukatsumono series.
…
Kekkai Sensen
Action · Adventure · Fantasy · Supernatural · Superpowers · Vampire
Bones
April 4, 2015
A breach between Earth and the netherworlds has opened up over the city of New York, trapping New Yorkers and creatures from other dimensions in an impenetrable bubble. They've lived together for years, in a world of crazy crime sci-fi sensibilities. Now someone is threatening to sever the bubble, and a group of stylish superhumans is working to keep it from happening.
Stesso autore di Trigun e Gungrave, che non ho visto, la Matsumoto (Kyousogiga) alla regia, invece, mi da buone speranze
Duel Masters VSR
Game · Kids
ShoPro
April 5, 2015
?
Passo
Arslan Senki
Action · Adventure · Drama · Fantasy · Historical · Shounen · Supernatural
LIDEN FILMS & Sanzigen
April 5, 2015
In the prosperous kingdom of Pars lies the Royal Capital of Ecbatana, a city of splendor and wonder, ruled by the undefeated and fearsome King Andragoras. Arslan is the young and curious prince of Pars who, despite his best efforts, doesn't seem to have what it takes to be a proper king like his father.
At the age of 14, Arslan goes to his first battle and loses everything as the blood-soaked mist of war gives way to scorching flames, bringing him to face the demise of his once glorious kingdom. However, it is Arslan's destiny to be a ruler, and despite the trials that face him, he must now embark on a journey to reclaim his fallen kingdom.
Per quanto si dica che il manga non sia all'altezza dell'opera originale, non mi sembra la stagione per fare troppo lo schizzinoso
Baby Steps 2nd Season
Romance · School · Shounen · Sports
Studio Pierrot
April 5, 2015
Maruo Eiitirou (E-Chan), a first year honor student, one day decides he's unhappy with the way things are and lacks excerise. He finds a flyer for the Tennis Club and decides check it out. He's instantly captivated by it. With no prior experience and poor physical conditioning, join E-Chan as he embarks on a tennis journey using his smarts, dedication and work ethic.
Seconda stagione per il tennista che biliva in imself
Show By Rock!!
Music
Bones
April 5, 2015
Metropolis of music, MIDICITY. A kitty girl wearing gothic lolita clothing named Cyan is scouted by Maple Arisugawa, the president of a music agency. From there, she meets Chuchu (a pun off of the sound that rabbits make) the honor student rabbit girl, a net geek dog girl named Retoree (from "Retriever"), and an alien sheep (?) girl named Moa. Together, they form the band named "Plasmagica," and aim for the top of the world.
However, the path there is long and tough, and keeping in high spirits is important. By battling against other strange bands, Plasmagica slowly grows toward a top-grade band. In the end, they'll be a band that becomes the driving force of MIDICITY's music industry... Maybe?
Gonna be a music millionaire!
Quando ho letto Bones ammetto di esserci rimasto male, per carità di cagate ne hanno fatte, ma mi è sempre sembrato che un minimo ci provassero…
Ameiro Cocoa
Romance · Slice of Life
Studio TBA
April 5, 2015
An ordinary college student, Aoi Tokura, was having a bad day. It was so bad [because] he was [called] ugly by a good-looking guy on the train. Walking down the street in [the] rain, Aoi found a small, but cozy cafe, Rainy Color. He started to work part-time as he enjoyed a cup of hot chocolate he was served. Then a guy came into Rainy Color… it was Keiichi Iwase, the one who told Aoi was ugly!!??
Posso già immaginare dove vada a parare e non mi piace.
O, almeno, mi piace pensare che non mi piaccia
Koukaku Kidoutai Arise: Alternative Architecture
Mecha · Police · Psychological · Sci-fi
Production I.G
April 5, 2015
TV broadcast recompiling the four existing episodes of "Ghost in the Shell: Arise" in addition to two new episodes, to tie the series with the new Ghost in the Shell movie premiering this summer.
Degli oav ho visto solo il primo, posso recuperare ora (o forse no, se mi stancai uno motivo ci dovrà pur essere, no?)
Hello!! Kiniro Mosaic
Comedy · School · Slice of Life
Studio Gokumi
April 5, 2015
Second season of "Kiniro Mosaic."
…
Kaitou Joker 2nd Season
Action · Adventure · Comedy · Kids · Shounen
Shin-Ei Animation
April 6, 2015
?
…
Diamond no Ace: Second Season
Comedy · School · Shounen · Sports
Production I.G & Madhouse
April 6, 2015
Second season of "Diamond no Ace"..
Questo non era malissimo, lo droppai comunque, ma il suo lo faceva
Nyuru Nyuru!! Kakusen-kun 2-ki
Kids
DLE
April 6, 2015
?.
…
Teekyuu 4
Action · Fantasy · Seinen · Sports
Millepensee
April 6, 2015
?
No, thanks
Takamiya Nasuno Desu!
Comedy · School
Millepensee
April 6, 2015
This "full-burst gag comedy" spinoff of "Teekyū" centers on the daily life of Nasuno Takamiya, the "exceedingly airheaded" school tennis club member in Teekyū, and her friends.
...
Mikagura Gakuen Kumikyoku
School · Shoujo
Dogakobo
April 6, 2015
The story of the original light novels and manga revolves around high school girl Eruna Ichinomiya, who enters the Mikagura Academy dreaming of a boarding school life filled with beauty. However, Eruna finds out that in the culture clubs, there is a rule that battles that are fought with special powers decide a club representative's treatment. Through various circumstances, Eruna becomes a representative of a club, and is thrown into the fray.
Light novel per ragazze, solo questo ci mancava
Bar Kiraware Yasai
Comedy
Gathering
April 7, 2015
The anime adapts artist Daisuke Kimura's four-panel manga of the same name, the story centers on vegetables that children hate, everyone hesitates to eat, and are smelly. The series follows these vegetables as they visit a bar to share drinks together while they talk about their worries.
M-masterpiece?
Hibike! Euphonium

Music
Kyoto Animation
April 7, 2015
The story follows of the Kitauji Music club, which used to always advance to national competitions. Ever since the adviser changed, though, it hasn't advanced past the Kansai tournament. However, thanks to the newly appointed adviser's strict instruction, the students are steadily improving. The club members' daily lives are full of ups and downs including fights over solos and the decision resign club activities to focus on studies.
Parrebbe un k-on, ma con la musica di mezzo
Gintama` (2015)
Comedy · Historical · Parody · Samurai · Sci-fi
Sunrise
April 8, 2015
?
In genere non mi sbilancio, ma adesso lo dico: quest'anime sarà un capolavoro.
Pronto a scommettere che arriverà nella top ten di mal
Triage X
Action · Adventure · Ecchi · School · Shounen
Xebec
April 8, 2015
Mochizuki General Hospital boasts some of the most well-trained (and well-endowed) nurses in town. But though these ladies spend much of their day battling disease, their after-hours are spent fighting a very different sort of sickness... Under the leadership of the hospital chairman, a handful of staff members and local teenagers form a group of mercenary assassins, targeting the "cancers" of society and excising those individuals before their wickedness spreads.
Dalla brillante mente dietro HSOTD, anche questo promette meraviglie
Ore Monogatari!!
Comedy · Romance · Shoujo
Madhouse
April 8, 2015
Takeo Gōda is a giant guy with a giant heart. Too bad the girls don't want him! (They want his good-looking best friend, Sunakawa.) Used to being on the sidelines, Takeo simply stands tall and accepts his fate. But one day when he saves a girl named Yamato from a harasser on the train, his (love!) life suddenly takes an incredible turn!
Questo potrebbe essere carino.
Staff simile a quello di Chiayafuru
Houkago no Pleiades TV
Magic
Gainax
April 8, 2015
The story centers around an afterschool club of magical girls who help recover fragments so that an alien from Pleiades can return home.
Subaru… scope motorizzate… ammetto di averci messo un poco
Etotama
Shounen
Shirogumi
April 9, 2015
The anime's story revolves around Nya-tan, the cat of Chinese astrology who wants to become a member of the Chinese zodiac. Nya-tan is simple and suffers from memory loss, and she tries various foolish ways to become a member. She meets Takeru Tendo, a high school student who lives alone in Akihabara, and becomes a freeloader at his house. Little by little, she gets closer to her goal.
Ecco accontentati i maschioni che volevano più shounen
Punchline
Comedy · Slice of Life
Mappa
April 9, 2015
The series follows Yuuta Iridatsu, whose spirit has been separated from his body.
So che questo Uchikoshi gode di una certa stima, ma pensare che l'anno scorso su Noitamina andava Ping Pong…
Urawa no Usagi-chan
Slice of Life
A-Real
April 9, 2015
An anime to advertise Urawa City in Saitama, Japan.
Guardatelo se amate gli slice of life con le ragazzine uguu o se non sapete dove andare quest'estate
Nisekoi:
Comedy · Romance · Shounen
Shaft
April 10, 2015
Second season of "Nisekoi"
…
Sidonia no Kishi: Daikyuu Wakusei Seneki
Adventure · Drama · Mecha · Military · Psychological · Seinen · Space
Polygon Pictures
April 10, 2015
Second season of Sidonia no Kishi.
Non era male la prima stagione, da quel che mi ricordo, ma non ressi la cgi
Eikoku Ikke, Nihon o Taberu
Slice of Life
Studio TBA
April 12, 2015
Based on a book by British travel and dining journalist Michael Booth. Follows Booth, his wife Lissen, and two kids Ansger (6) and Emil (4), on their 100-day trip to Japan as they try a wide variety of Japanese foods. Booth was inspired to make the trip by Shizuo Tsuji's book, Japanese Cooking, A Simple Art.
Sarei anche, vagamente, curioso, ma la probabilità che ci siano sub non è altissima, mi sa
Yamada-kun to 7-nin no Majo (TV)
Comedy · School
LIDEN FILMS
April 12, 2015
The story of the original manga begins when Yamada, the high school's worst problem child, bumps into the beautiful honor student Shiraishi on the stairs, and their lips touch as they fall. When they regain their wits, they realize that they have swapped bodies. As time progresses, the two realize that this is not the only mysterious happening in the school.
Non è che non stia più nella pelle, però non se ne parla male…
Ninja Slayer From Animation
Action · Cyberpunk · Sci-fi
Trigger
April 16, 2015
The "cyberpunk ninja action drama" is set in the near-future city of Neo Saitama and follows Fujikido Kenji, a salaryman whose wife and children were killed in a ninja battle. Thus, he became a ninja slayer, devoted to killing all ninja to avenge his family.
Non ho amato Kill la Kill alla follia, specie nella sua parte più seriosa, ma questo c'ha un non  so che che mi sconfinfera
Grisaia no Rakuen
Drama · Psychological · Romance · School
8bit
April 19, 2015
The February issue of Mag Garden's Comic Garden magazine announced on January 5th that a television anime adaptation of the two remaining games in Frontwing's Grisaia visual novel trilogy has been green-lit. The anime of The Labyrinth of Grisaia (Le Labyrinthe de la Grisaia) fan disc/prequel and The Eden of Grisaia (Grisaia no Rakuen/Le Eden de la Grisaia) sequel will premiere at the end of March on the Tokyo MX, Sun TV, KBS Kyoto, BS11, and AT-X channels. The first episode will be a 60-minute special.
L'altro Grisaia è segnato come special, quindi non l'ho aggiunto
Digimon Adventure Tri.
Adventure
Toei Animation
April 2015
Fifteen years after the summer vacation.
If we didn't go to the Digital World. If I didn't make this trip with others. If we didn't change at all like this.
These Digimon were always with us. We've been friends all the time. We learned the importance of helping each other. All the things have made us what we are!
New stories for all the "DigiDestined" in the world. Taichi, seventeen, high school days.
My nostalgia goggles aren't working
Lupin III (2015)
Adventure
Telecom Animation Film
Premiere Date TBA
Lupin will be starring as the main character in this upcoming series set to take place in Italy and San Marino.
Reflecting its setting, the anime will debut in Italy before airing in Japan. Lupin III fans will note that the titular thief now has a blue coat, following his earlier appearances in green (first series and some OVAs), red (the second series as well as most films and television specials) or pink (third series).
Non so neanche se il progetto esiste ancora, noi dovremmo saperne, teoricamente, più di loro
Narudoma
Comedy · Shounen Ai
Studio TBA
Premiere Date TBA
The "unorthodox hard surreal gag" comedy centers around the narcissistic (narushi na) Hagito and the masochistic (domazo na) Kei. Together they are "Narudoma."
Hagito is a handsome yet pitiful man with a loli complex. Anytime, anywhere, a mirror is his constant companion. Surrounding him are a host of highly idiosyncratic characters: the diehard masochist Kei, the unnaturally strong yet girlish Totono, the exceedingly stylish working stiff Saitō, and the extraordinarily negative Roku. Even the one normal guy has his own issues.
…
Robot Girls Z+
Comedy
Toei Animation
2015
?
…
Saint Seiya: Ougon Tamashii
Action · Adventure · Fantasy · Shounen
Studio TBA
April 2015
New Saint Seiya project.
Le animazioni mostrate nel trailer posson far dormire sogni sereni ai fan dei cavalieri
Super Short Comics
Comedy
Studio TBA
April 2015
?
Alla prossima stagione!