Neanche da specificare che i due cd warp che ho visto sono i più belli
Visually speaking, musicians are now being pushed to find untraditional entry points into their work, such as interactive online experiences, apps, and sensory installations, not to mention the always evolving live show and its subsequent trail of YouTube videos. But still, the album cover remains a powerful factor in how we make sense of a record—whether it's presented via gatefold vinyl or shrunk all the way down to fit on your smartphone screen. In no particular order, these 20 covers informed and inspired as the lynchpin of their album's aesthetic ecosystem better than any others we saw year.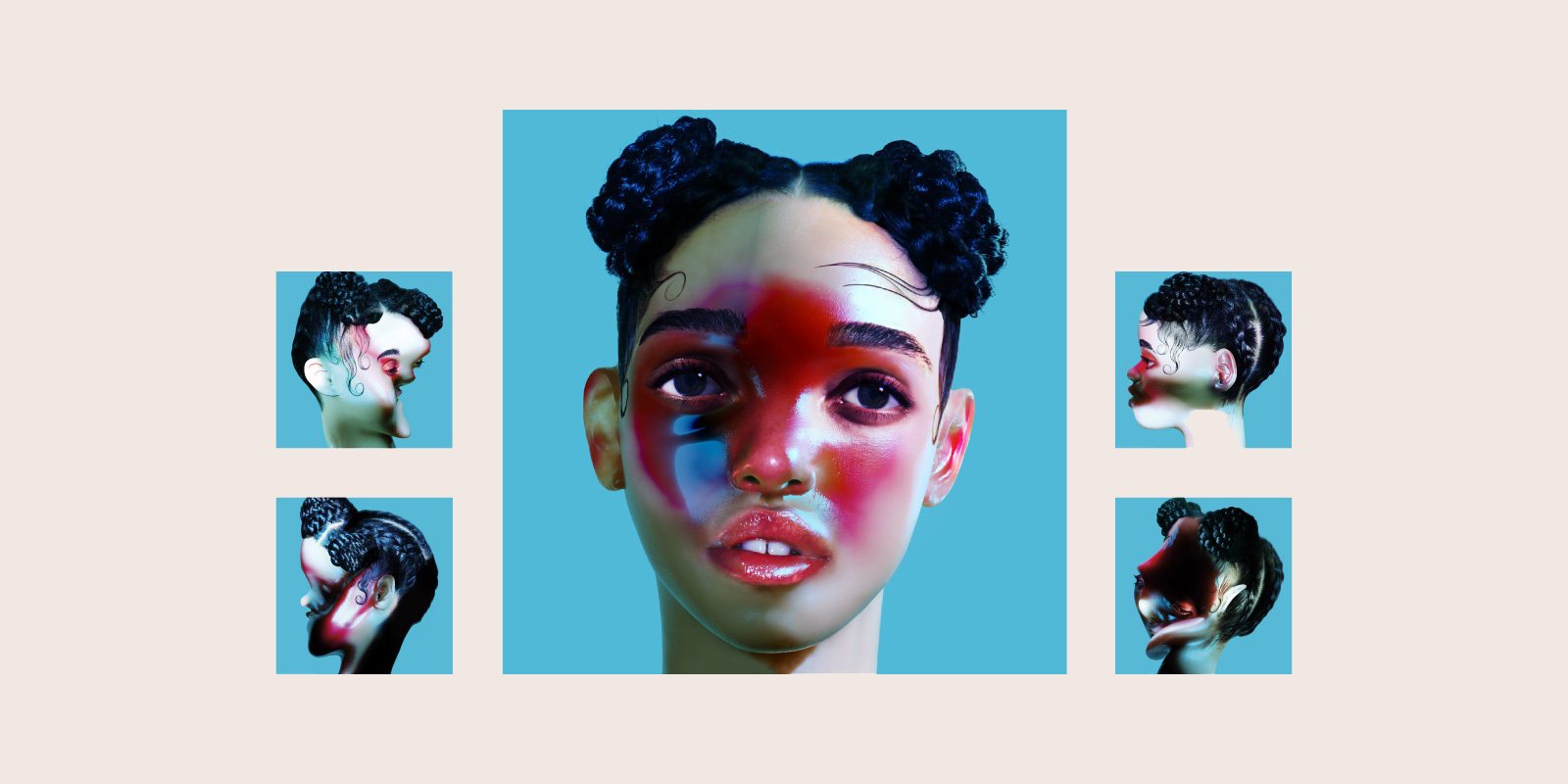 FKA twigs: LP1
Visual artist Jesse Kanda manipulated and twisted one of the year's most compelling new stars to create the surreal images that line LP1's packaging; Francis Bacon imitating Margaret Keane in a PC Music fever dream couldn't have nailed the fluidity and strange beauty of the record any better.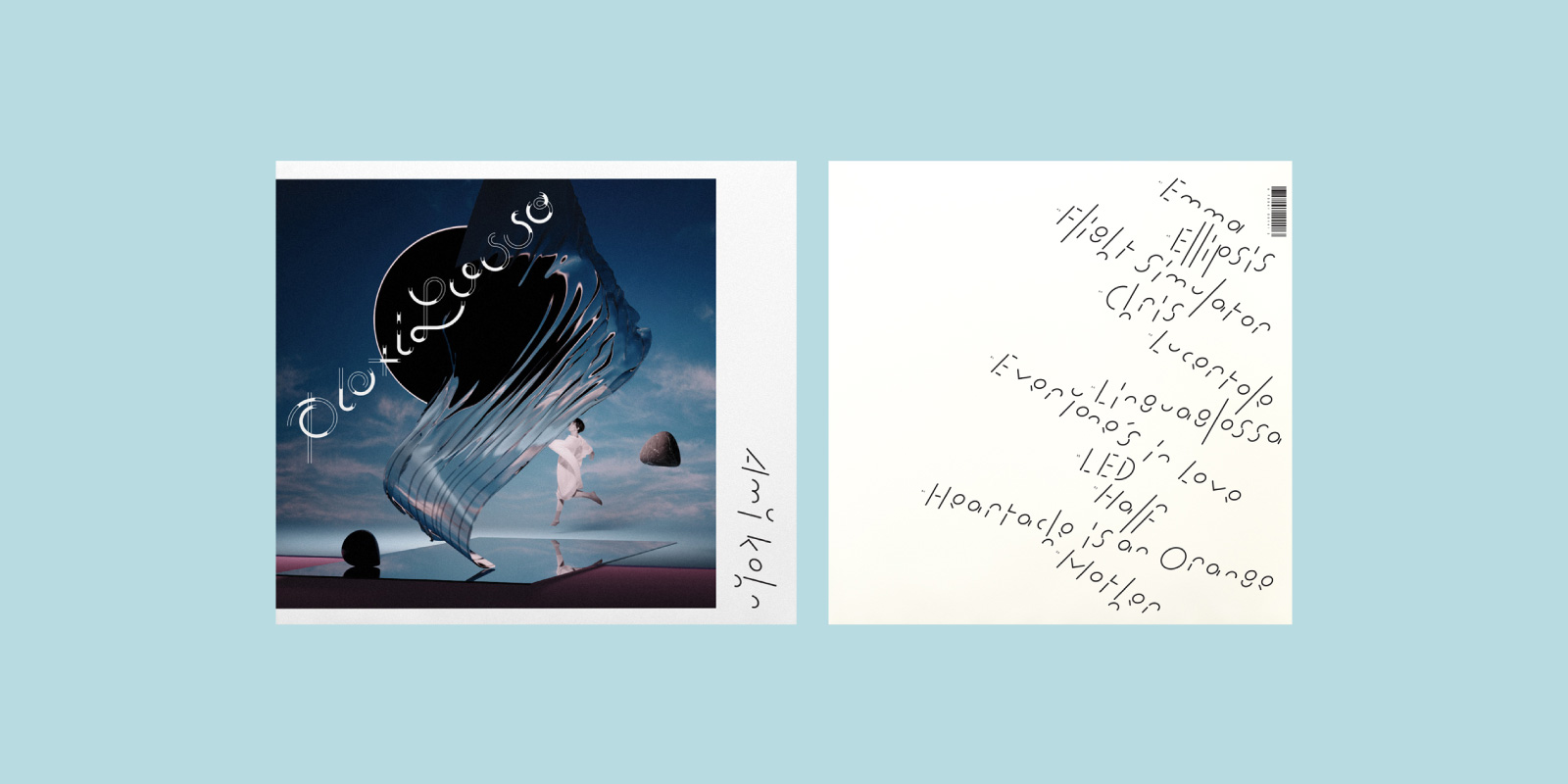 Amy Kohn: PlexiLusso
Oslo-based design studio Non-Format made this stunning gatefold LP sleeve and eight-page digipak with photography from Merri Cyr for ambitious NYC songwriter Amy Kohn. The custom typeface may be hard to read, but that's part of the point—the mystery of the typography and otherworldly photographs conjure an elegantly skewed environment.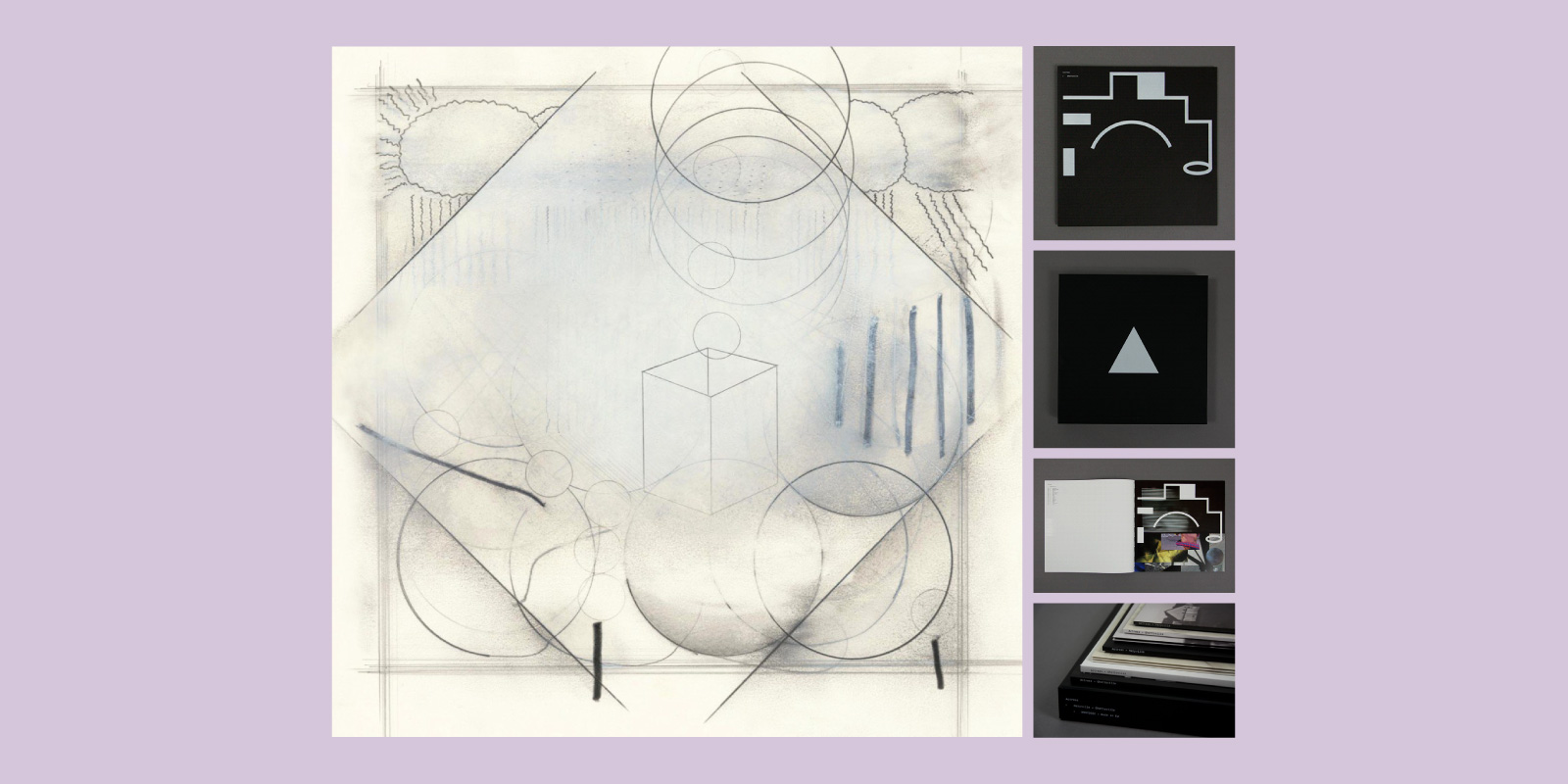 Actress: Ghettoville/Hazyville
UK studio Inventory designed the artwork for Ghettoville—reportedly the final release from Darren J. Cunningham, aka Actress—as well as the beautiful box set that pairs it with the electronic musician's first release, Hazyville. The package is a symphony of die-cut shapes, interesting finishes and textures, minimal typography, a 40-page booklet of abstract imagery that deconstructs as you turn the pages, and cover artwork from William Stein.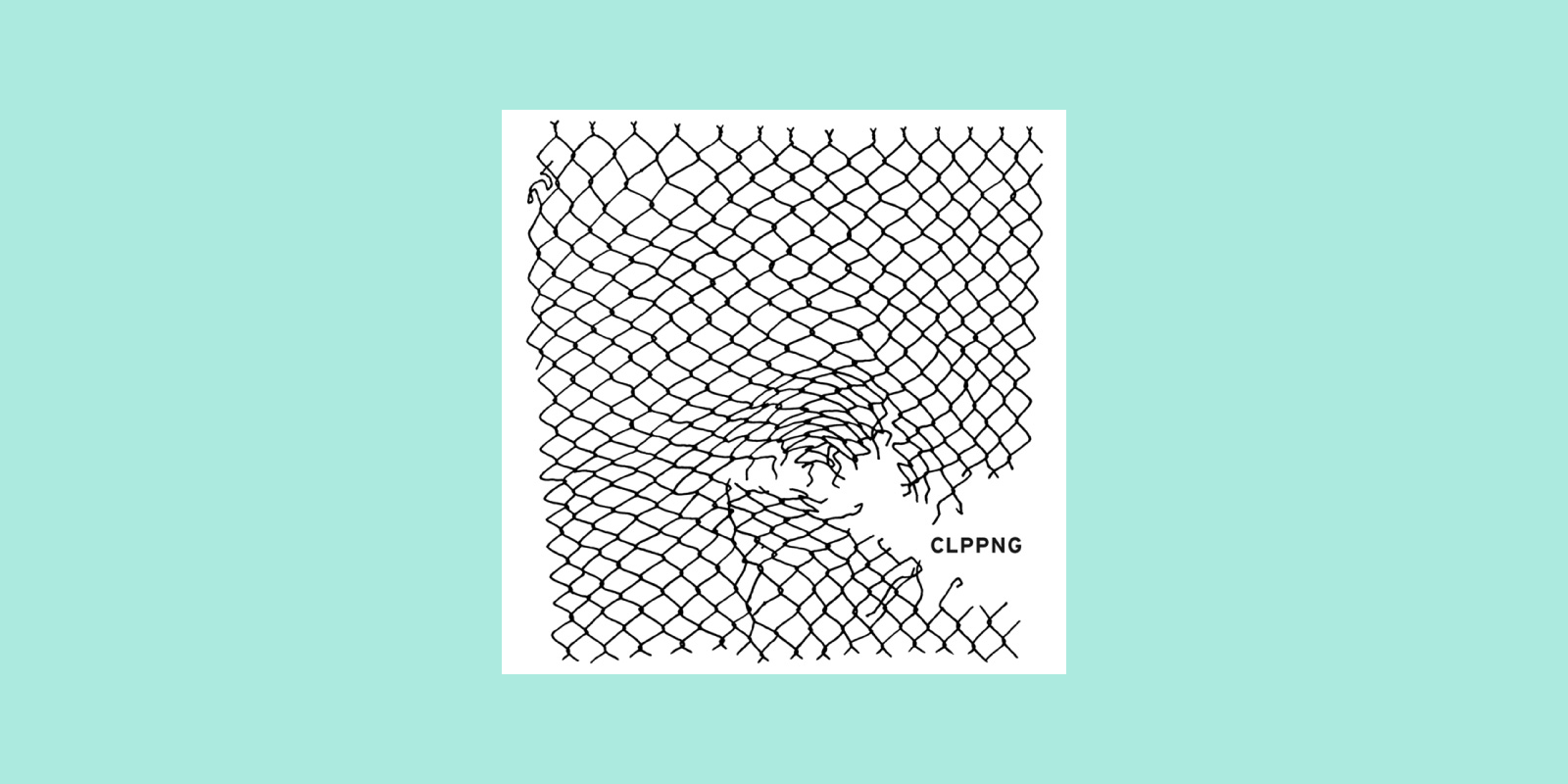 clipping.: CLPPNG
Noise-rap act clipping. smartly tapped illustrator and designer Tim Lahan for their cover, which is an extension of one of Lahan's many buckets of visual whims: the busted-up chain link fence. If there was an origin story to this cover, it exists within the artist's risograph-printed booklet Olympic Fencing.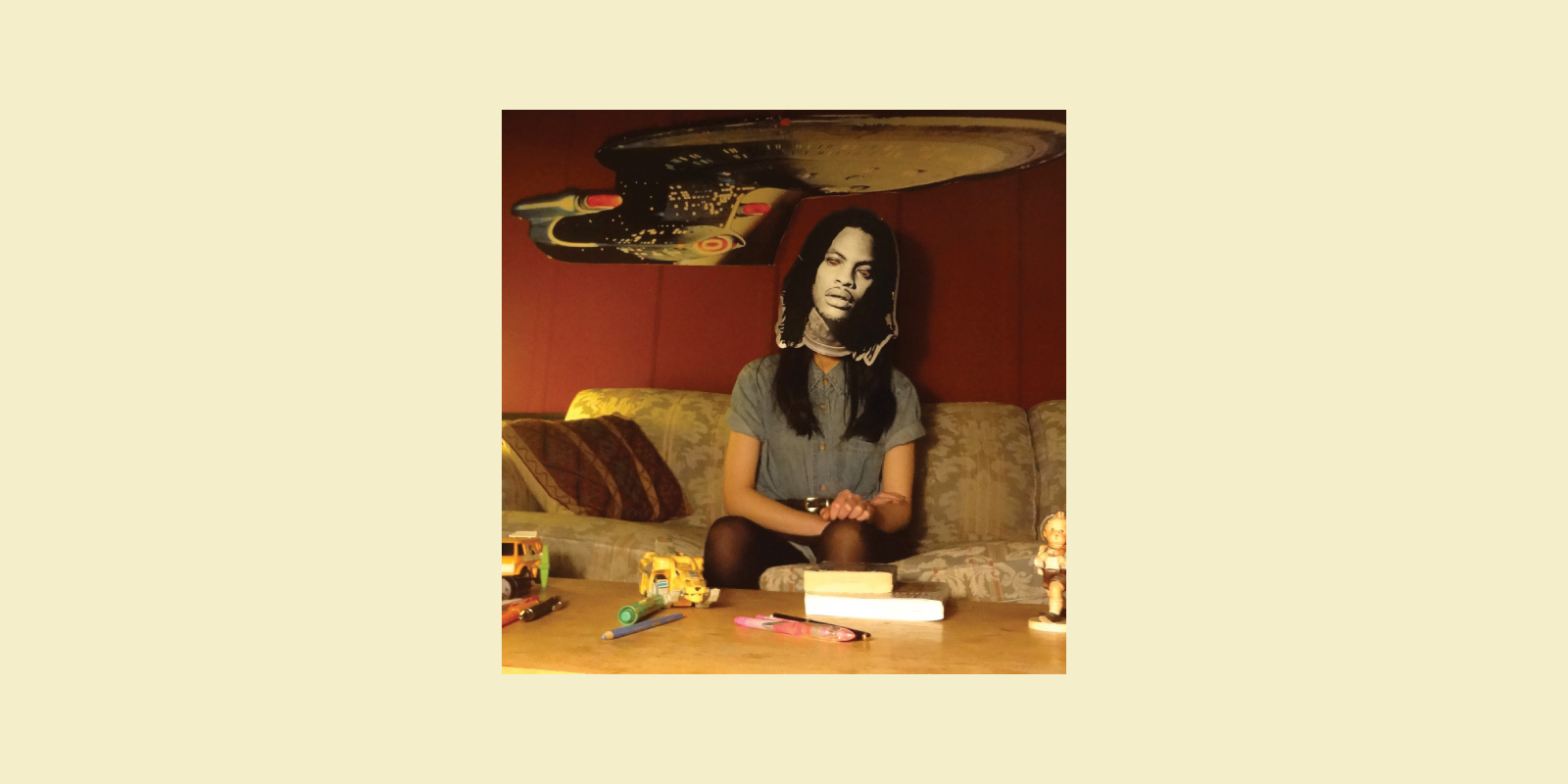 Elisa Ambrogio: The Immoralist
Magik Markers' Elisa Ambrogio wears a Waka Flocka Flame mask  on the cover of her debut solo album. Here's where we say something about meta culture, appropriation, Ambrogio hiding behind something, the way hip-hop production methods influenced the album… but all that aside: Waka Flocka mask. Pretty good cover!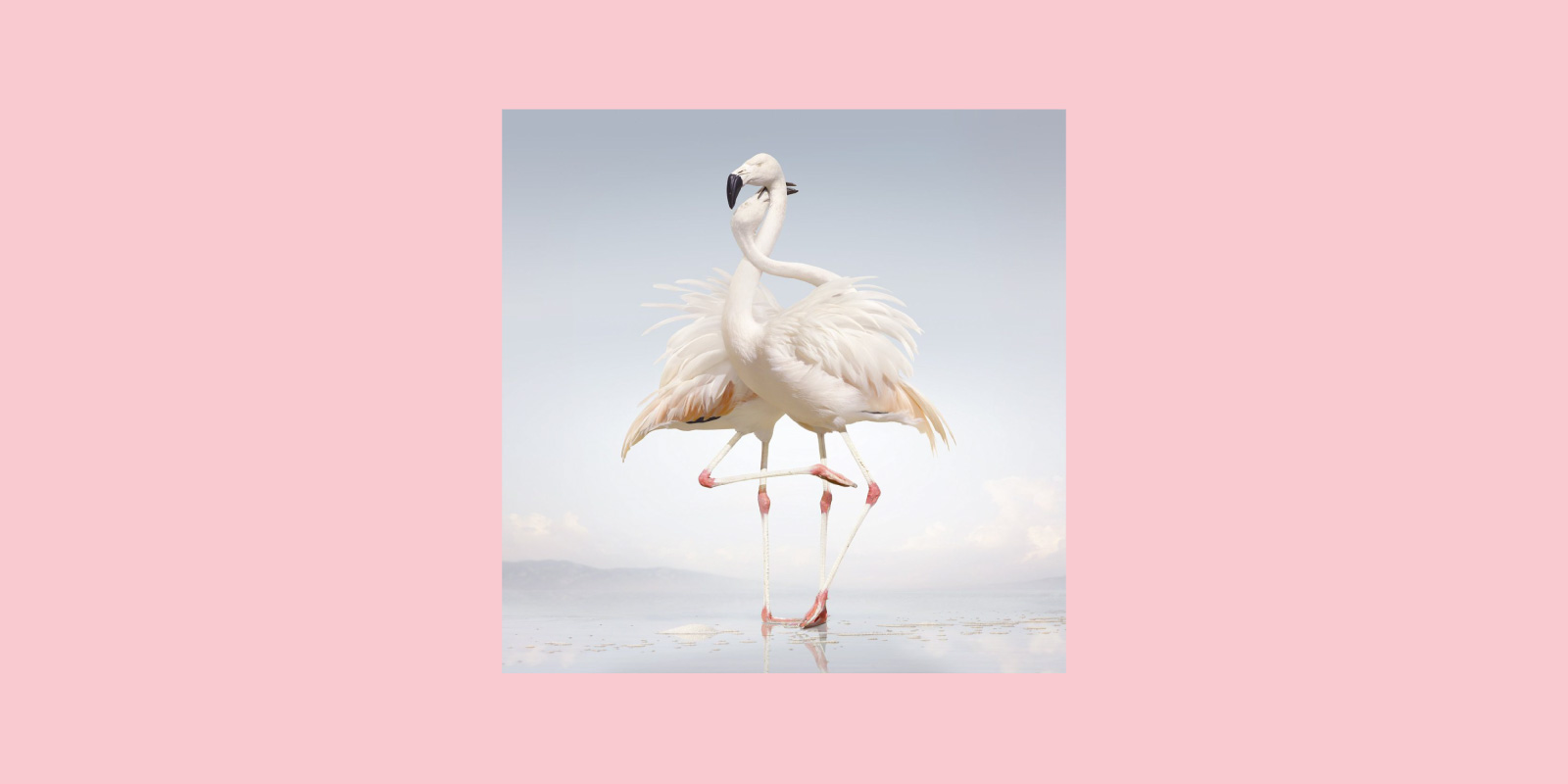 Rustie: Green Language
The second track on Green Language, "A Glimpse", opens with the intermingling of twinkling water and birdsong, for which this cover is obviously a suitable companion. The carved-out spaciousness within the album accentuates its grand moments so much more, and that connection is what makes this image feel so right.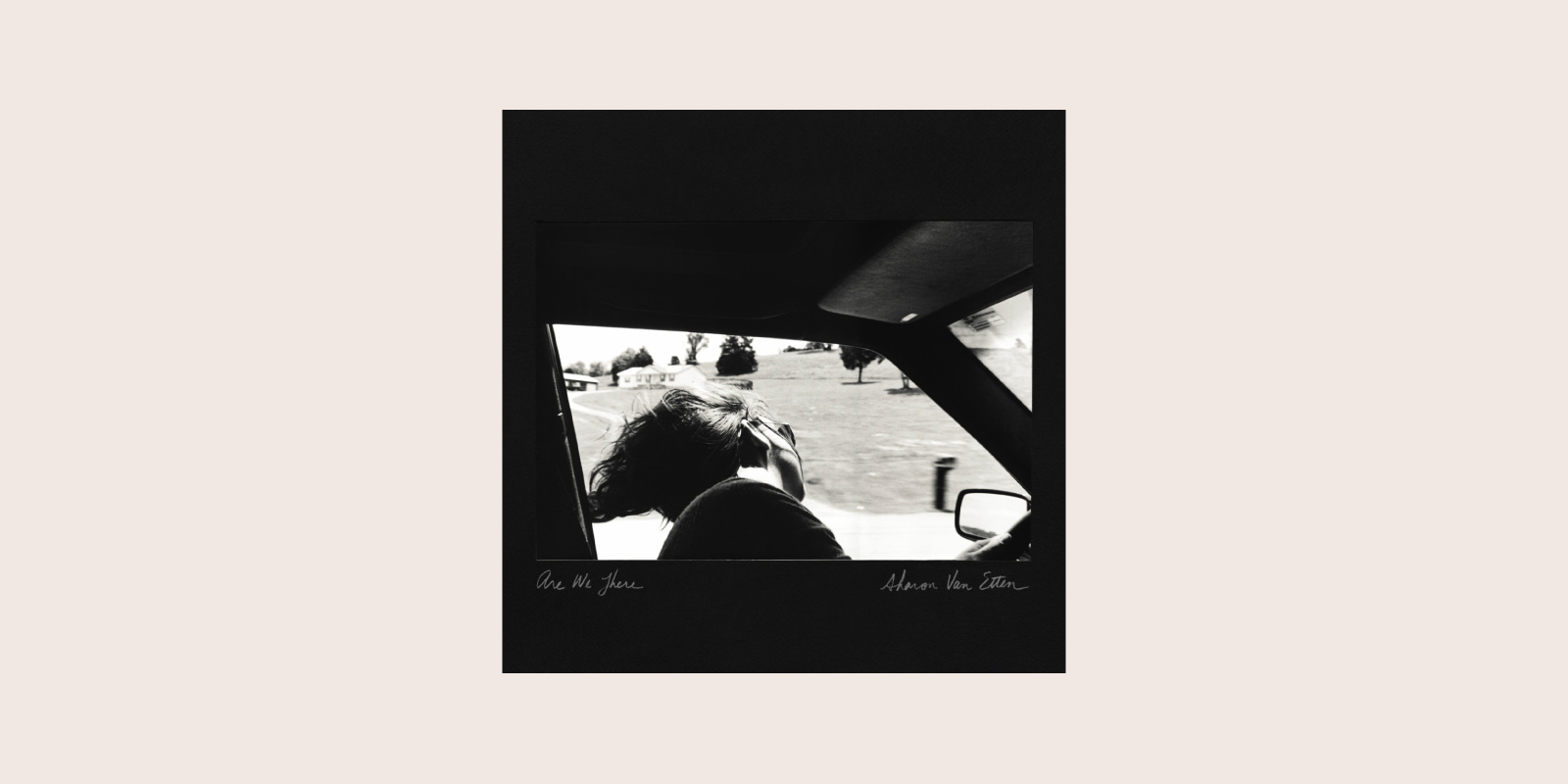 Sharon Van Etten: Are We There
Aside from the literal nature of the title and cover shot, this instantly-timeless image crystallizes riding alongside Van Etten as she breezes through so many intimate and personal moments.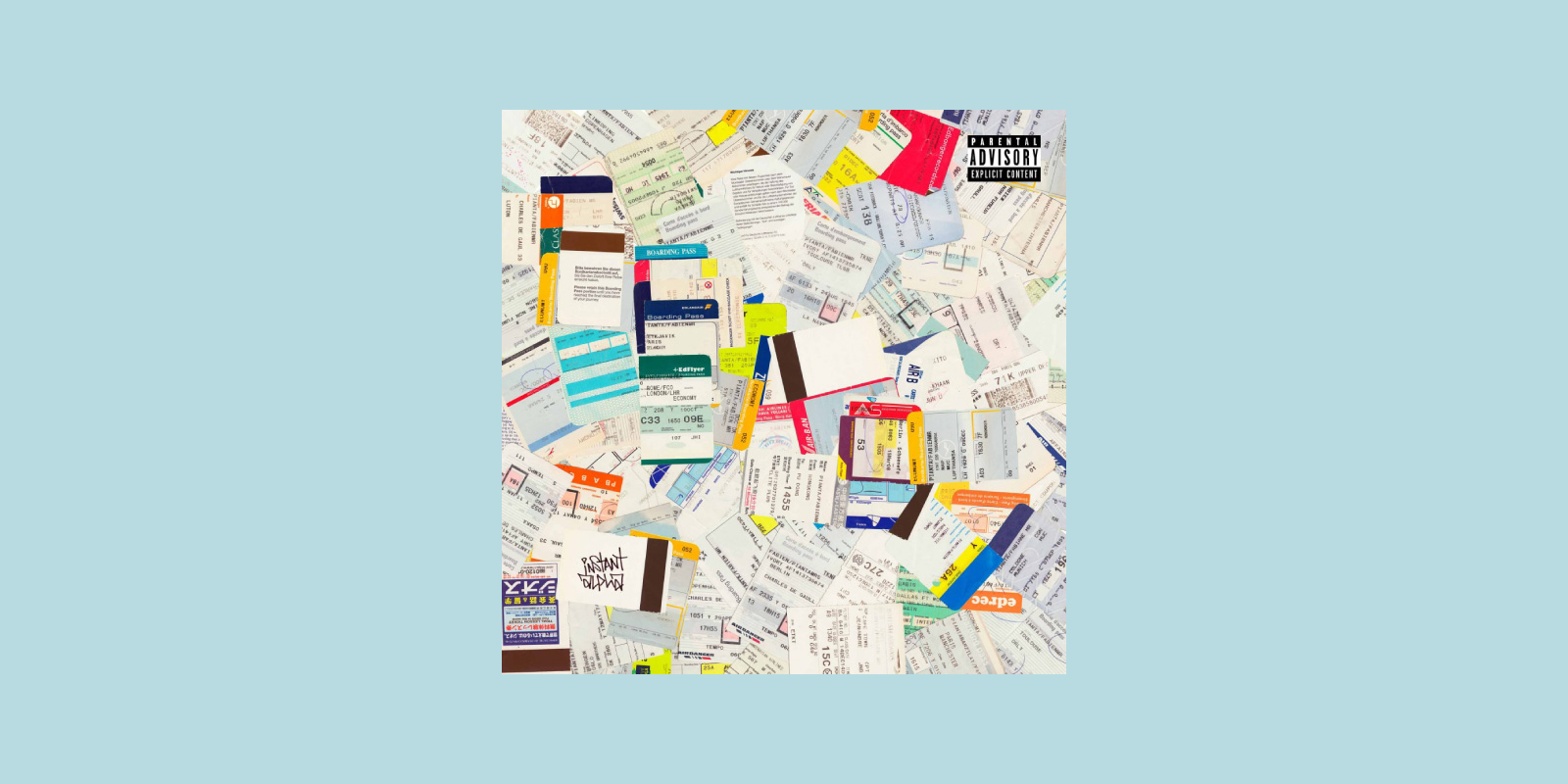 Feadz: Instant Alpha
If this cover tells us anything, it's that Feadz, aka French house producer Fabian Pianta, has been doing a lot of traveling. The collage of plane stubs spelling out his moniker is just a really simple idea executed perfectly.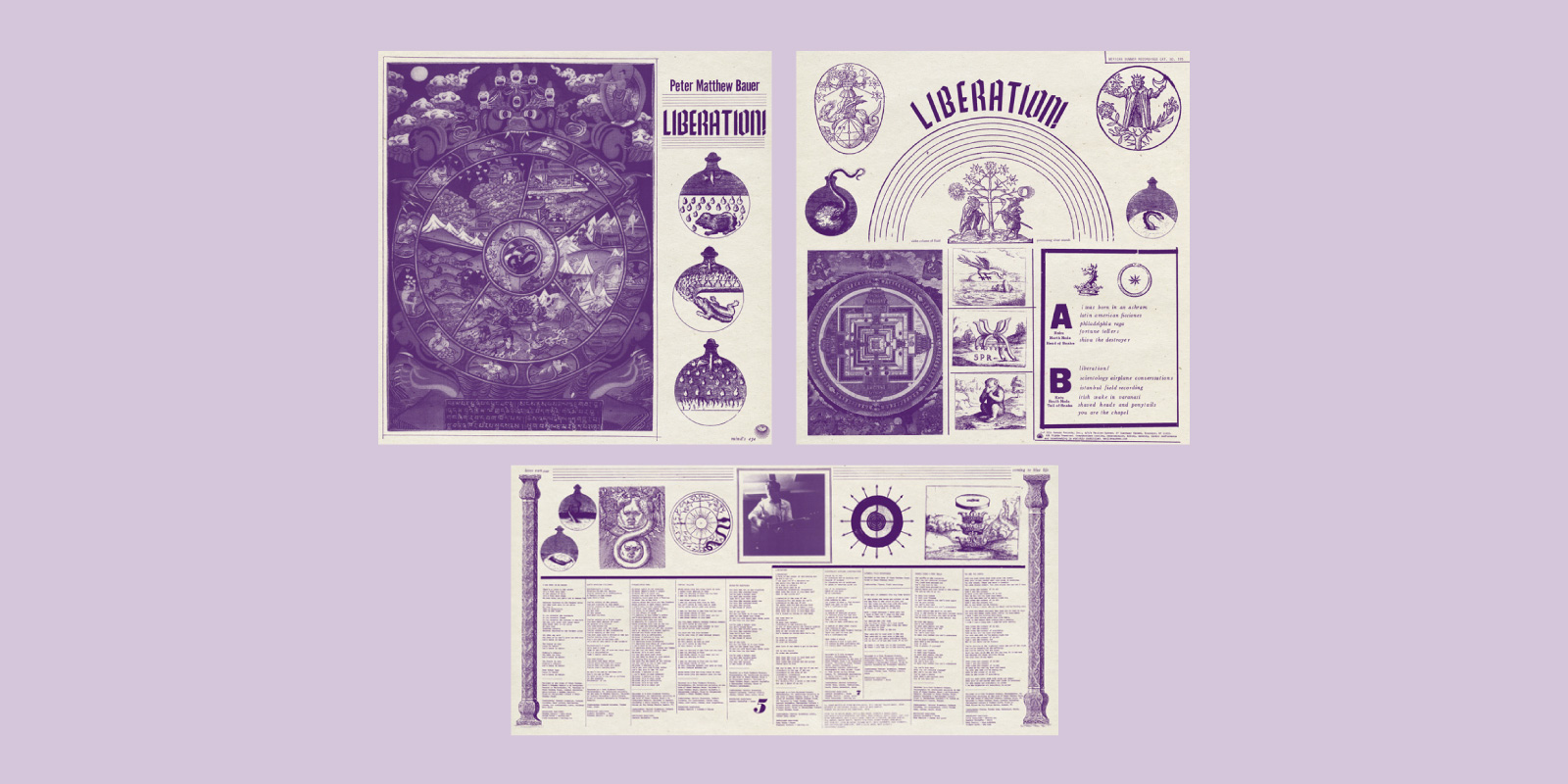 Peter Matthew Bauer: Liberation!
The duotone artwork on Liberation!, by L.A. design studio SEEN, is composed of ashram imagery and hand-set typography (OK, probably not set by hand, but most likely painstakingly set character-by-character in Adobe Illustrator). It manages to avoid a full-on retro finish by getting the small details right and being esoteric enough to feel new.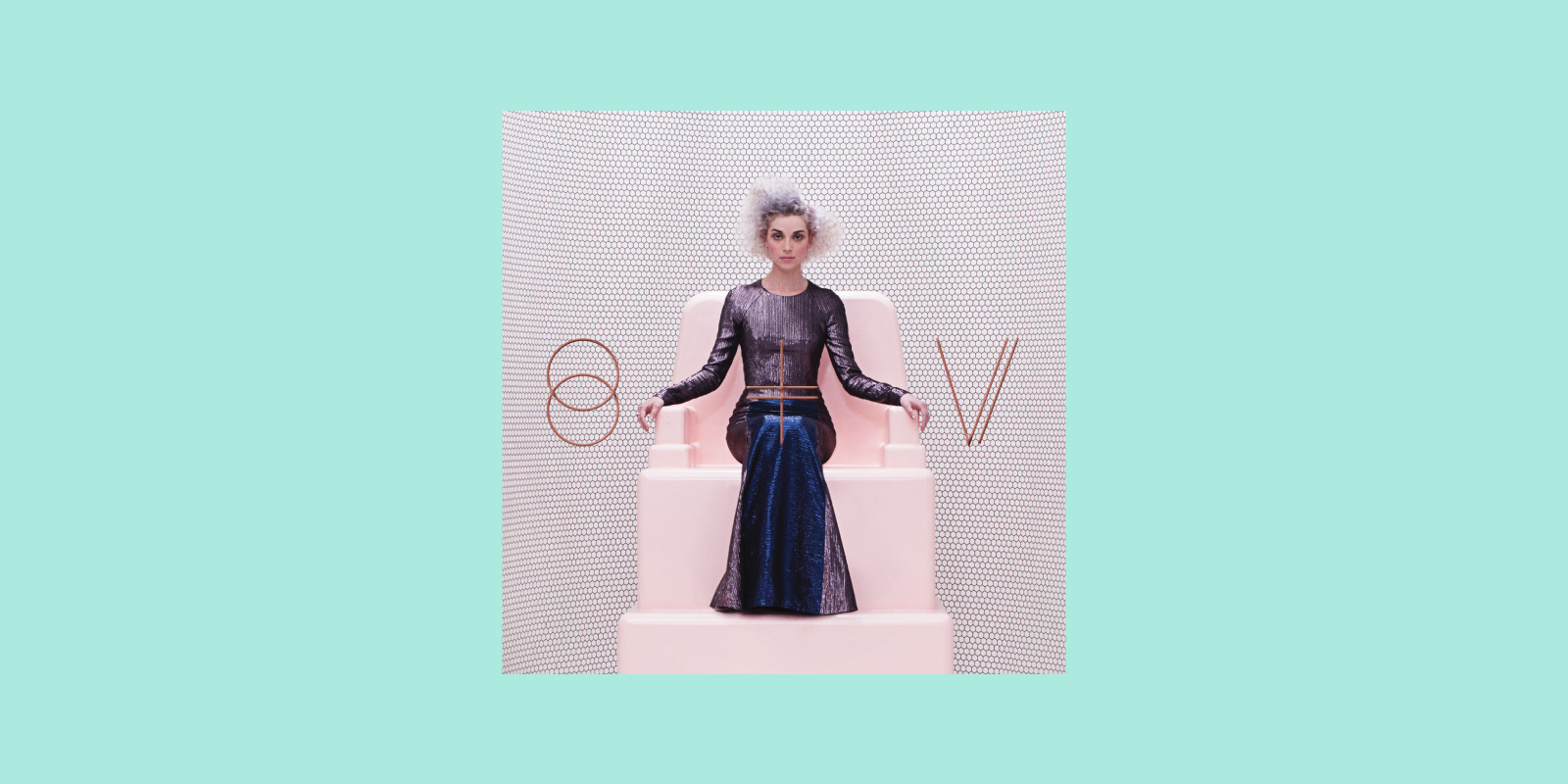 St. Vincent: St. Vincent
Annie Clark expanded her unhinged robotic persona this year, shredding through a captivating live show of choreographed steps and bows, wireless guitars and stage platforms. The Holy Mountain-like cover featuring her unhesitating gaze was the perfect introduction to the next frontier in her shimmering universe.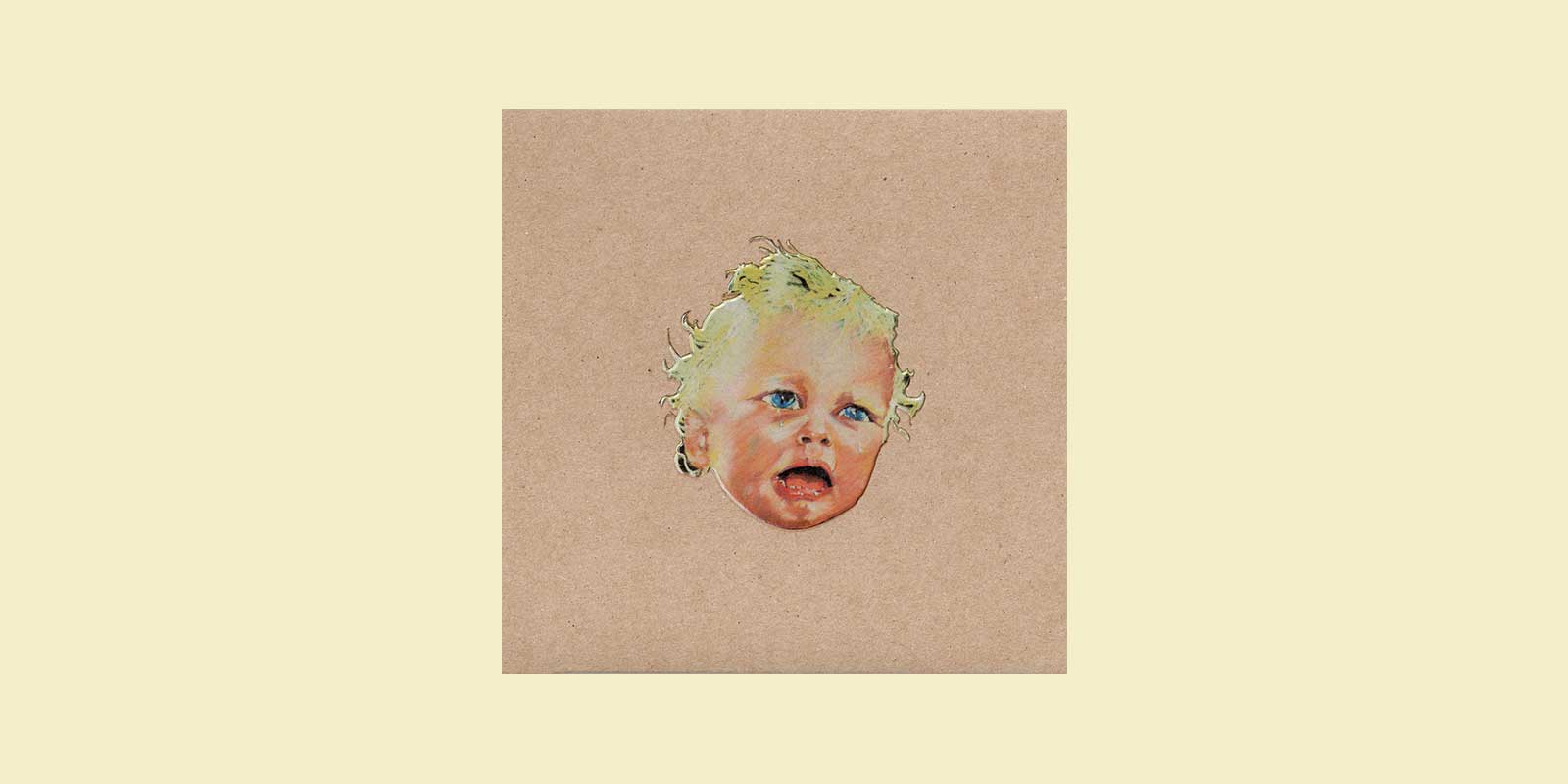 Swans: To Be Kind
Swans leader Michael Gira art directed and designed the cover for To Be Kind, which, depending on which version of the album you have, is one of six baby heads painted by Slash magazine founder Bob Biggs. But no matter which tiny head you're looking at, when coupled with the epically dark music inside, the cover only adds to Swans' unsettling grandeur.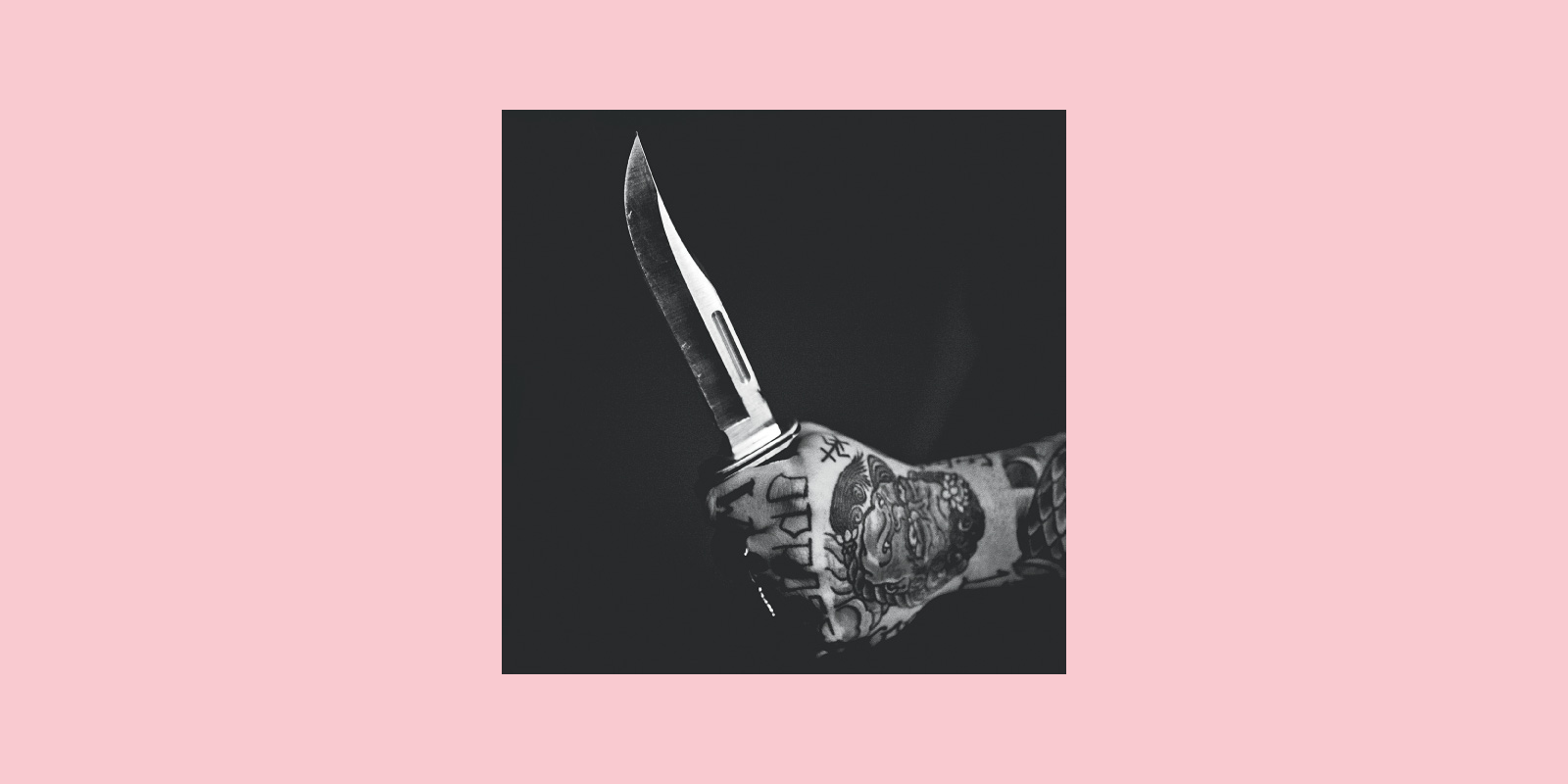 YAITW: When Life Comes to Death
The tidy black-and-white finish on the cover of North Carolina black metal band YAITW's fourth album makes the occultish imagery all the more brutal. An incredibly striking photograph by Angela Owens.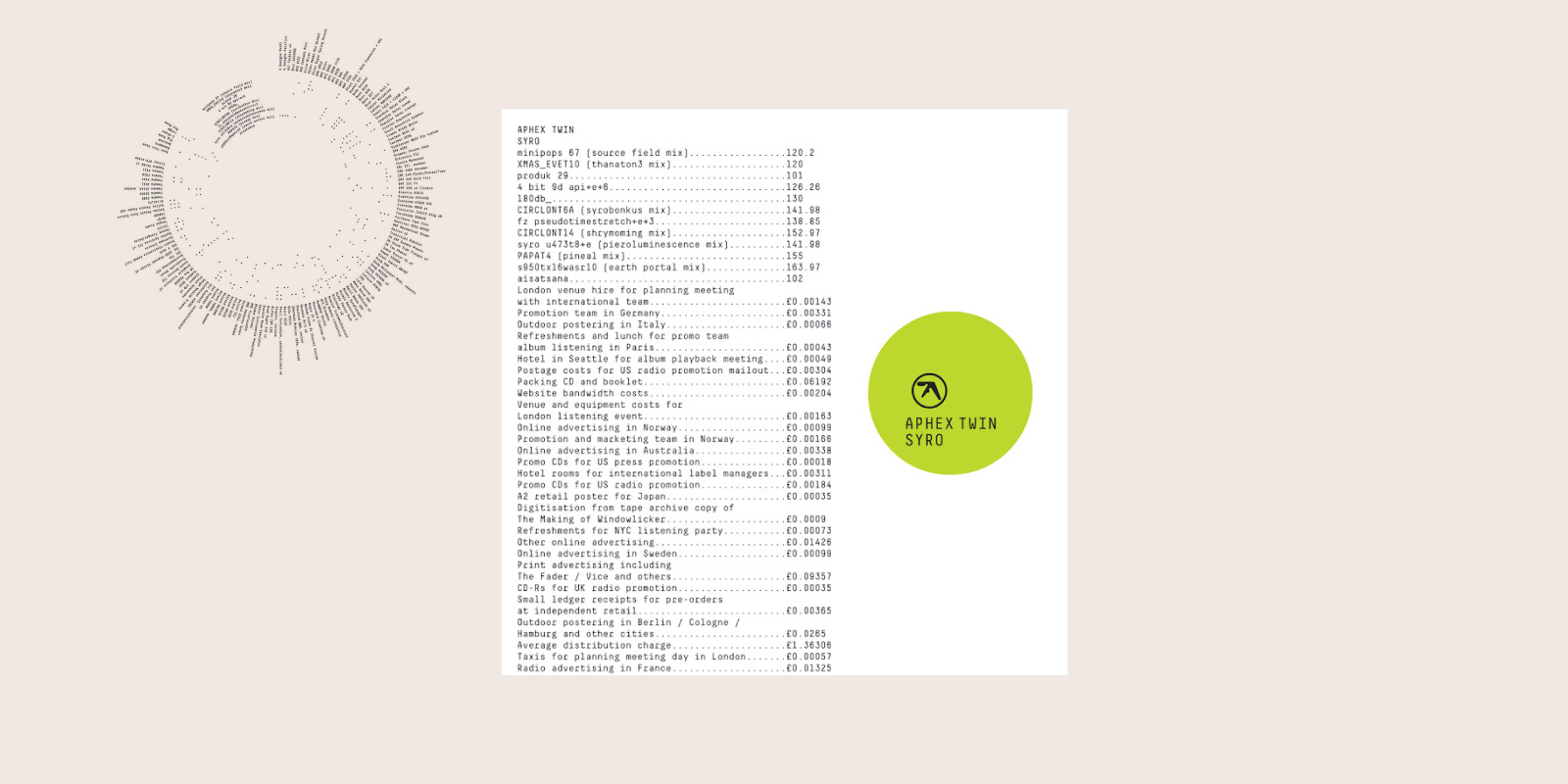 Aphex Twin: Syro
The artwork for Syro, created by The Designers Republic, is made up of all of the expenses associated with the production and marketing of the album itself—and void of almost any "design." Sure, it's minimal and very well-done from a boilerplate layout standpoint, and the limited-edition packaging uses just enough production embellishments to make it feel supreme. But the concept challenges the consumer to continue considering how we purchase music today, and all that goes into it.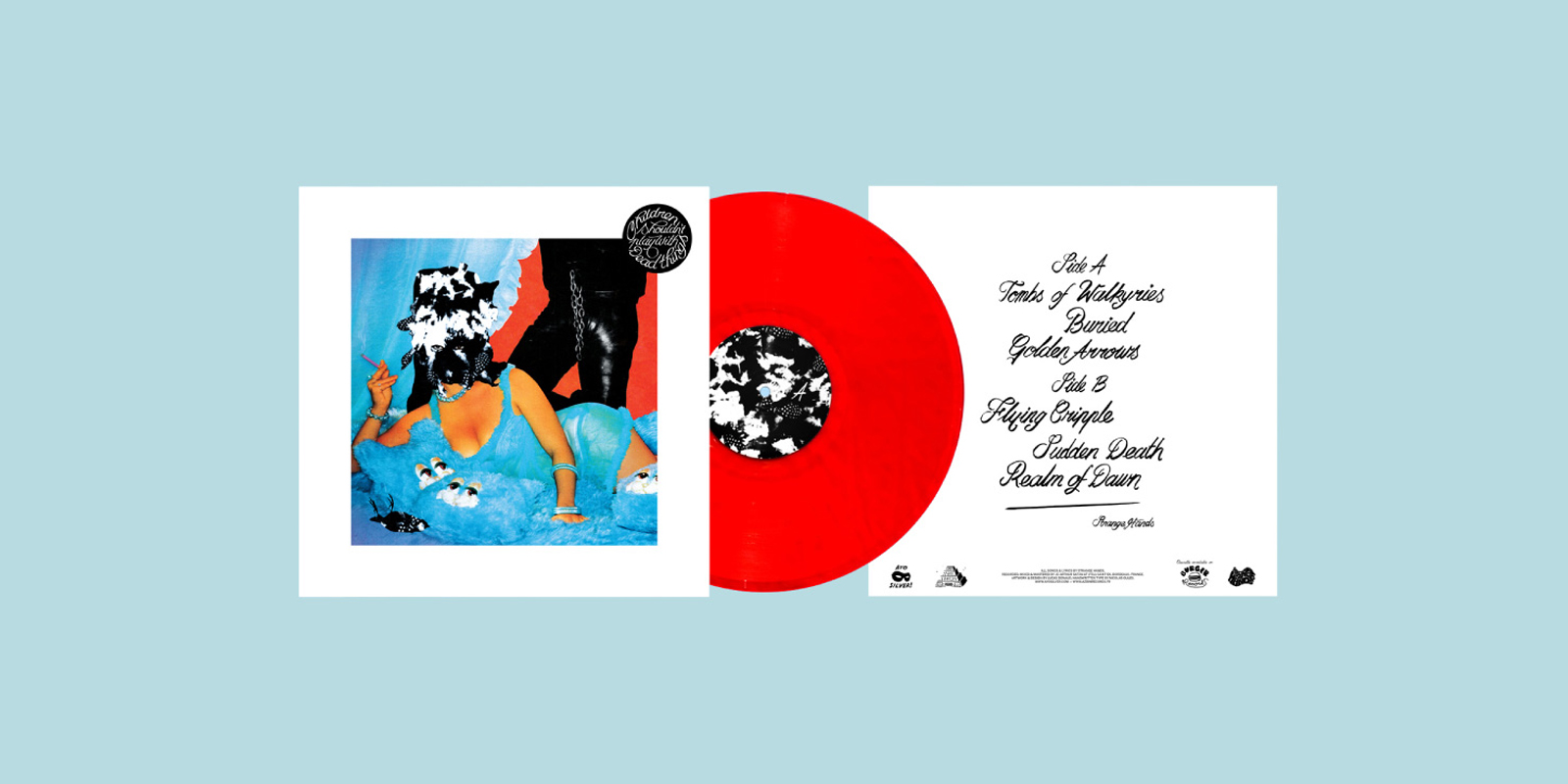 Strange Hands: Realm of Dawn
Designer Lucas Donaud adorned this LP cover for psych rockers Strange Hands with a colorful and unsettling collage of leather and plushies, and then garnished it with red transparent vinyl and a red transparent cassette for Burger Records.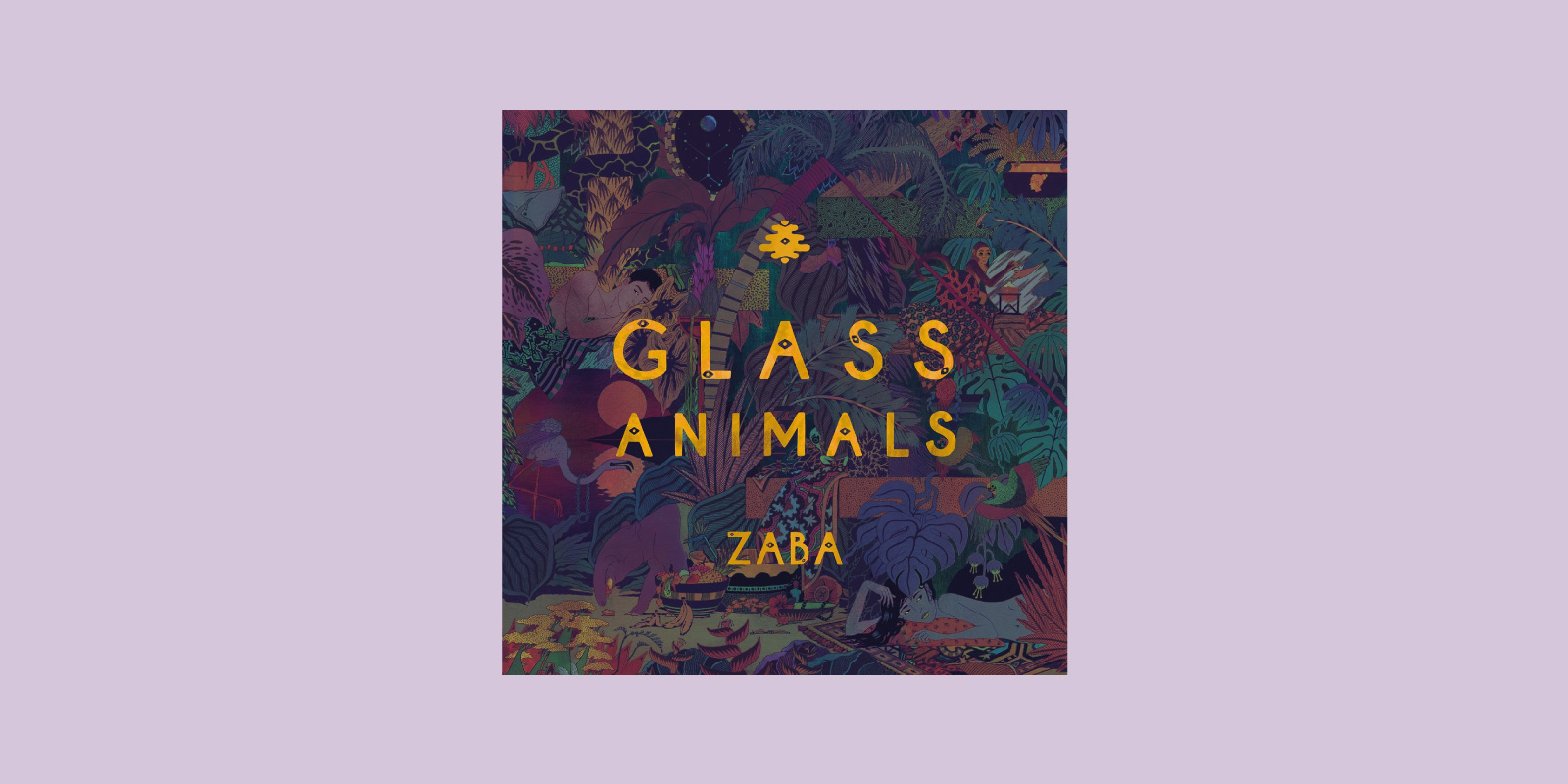 Glass Animals: Zaba
Micah Lidberg charmingly illustrated the darkly verdant and purple water-colored jungle for Zaba, which was art directed by England's Boat Studio. Glass Animals frontman Dave Bayley created the typography on the cover, which proudly sports a perfectly opulent gold foiled finish.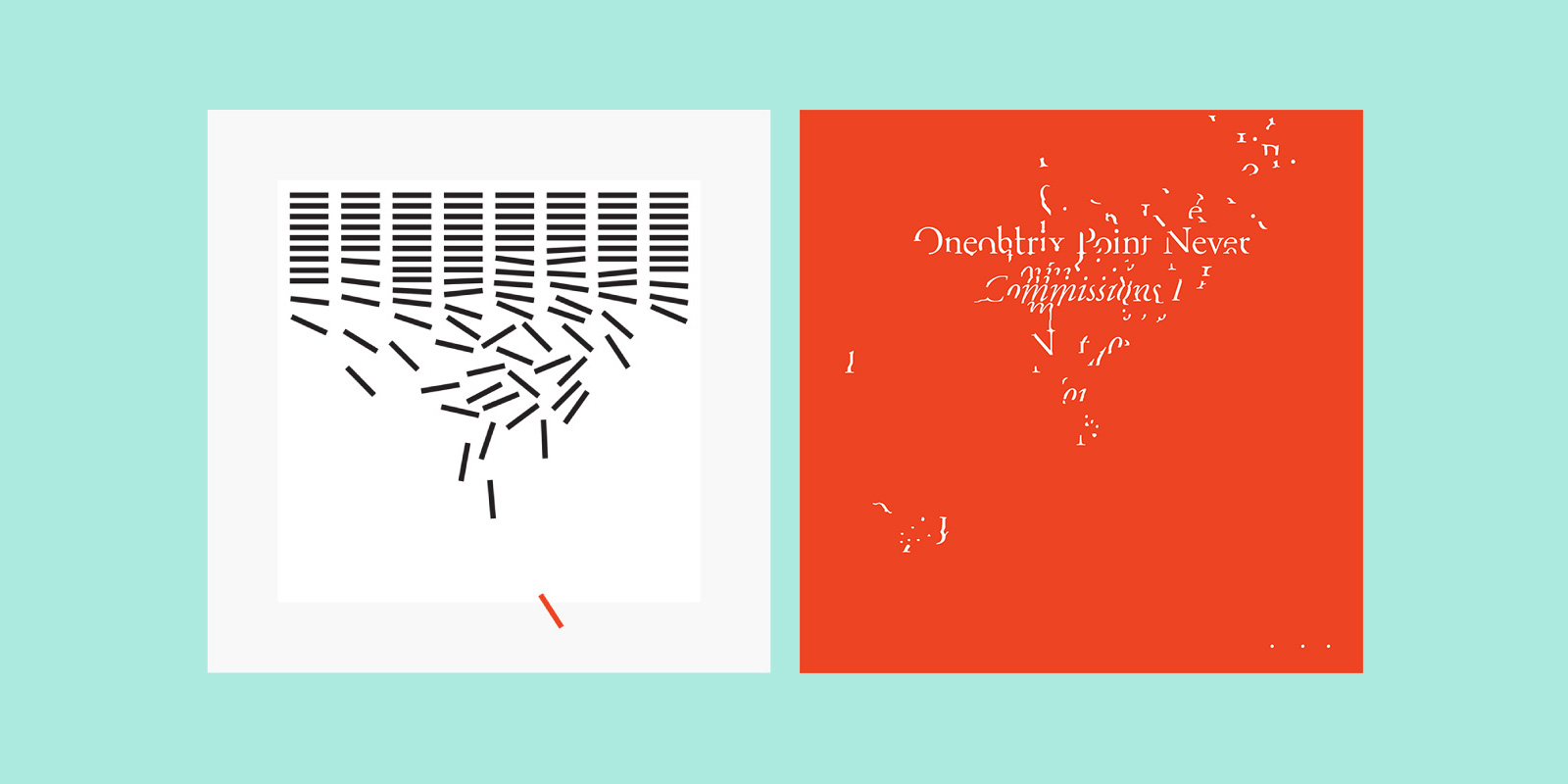 Oneohtrix Point Never: Commissions I
Oneohtrix's Record Store Day contribution was a collection of some of his recent commissioned pieces, and multi-disciplinarian artist Robert Beattycultivated this straightforward concept into something as seemingly rigid—while still finding tension and rhythm using very spartan forms. The inner sleeve (right) colored the final falling piece on the die-cut cover, and mirrored the cover's deconstruction through typography.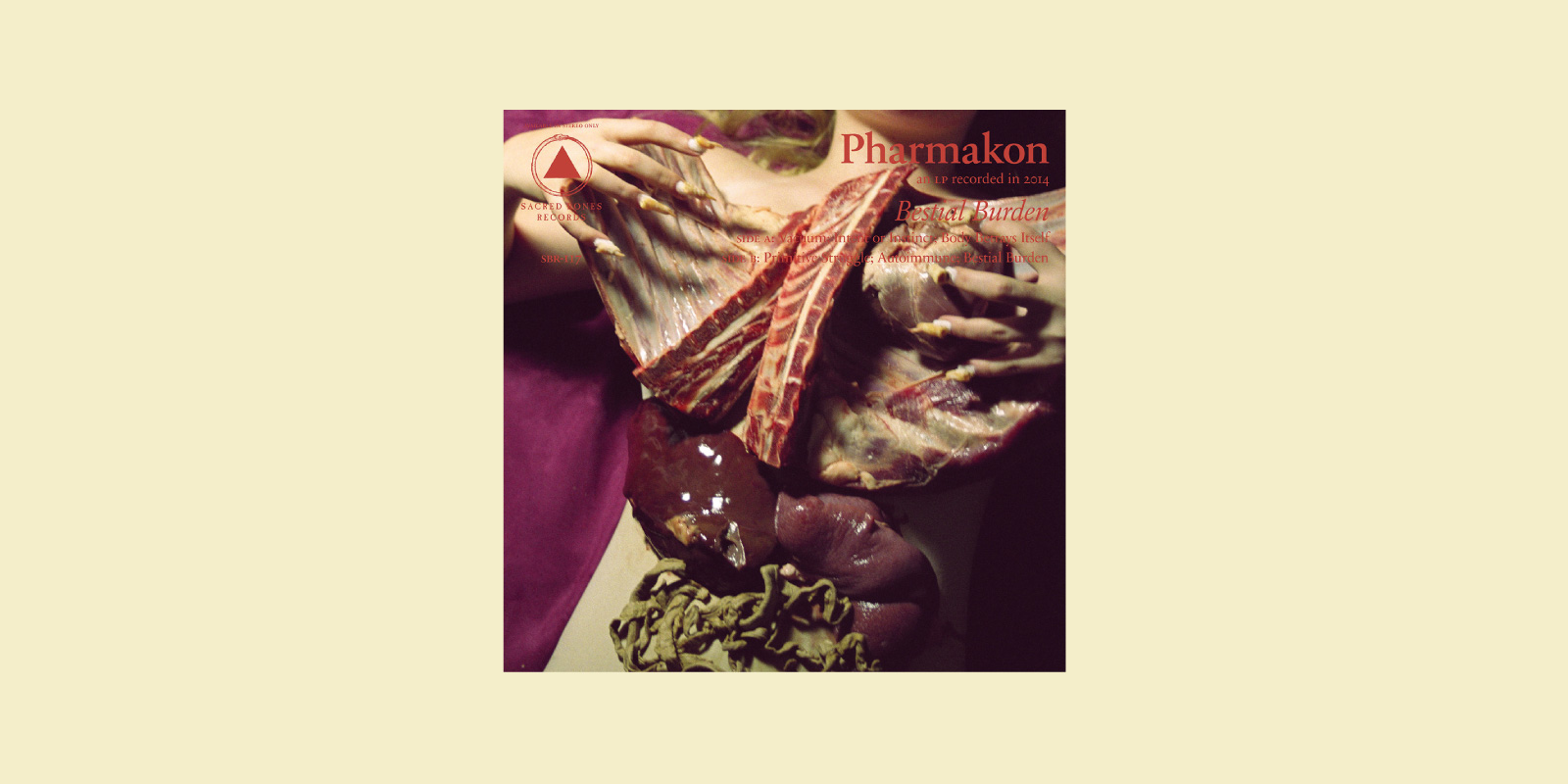 Pharmakon: Bestial Burden
Margaret Chardiet, aka Pharmakon, wrote her latest album while recovering from surgery; pushing the tension between body and consciousness, the physicality within the noise on Bestial Burden is evident. And while the cover is a very literal interpretation of the album's inspiration, like last year'sAbandon, it's a perfect synthesis of stunning and grotesque.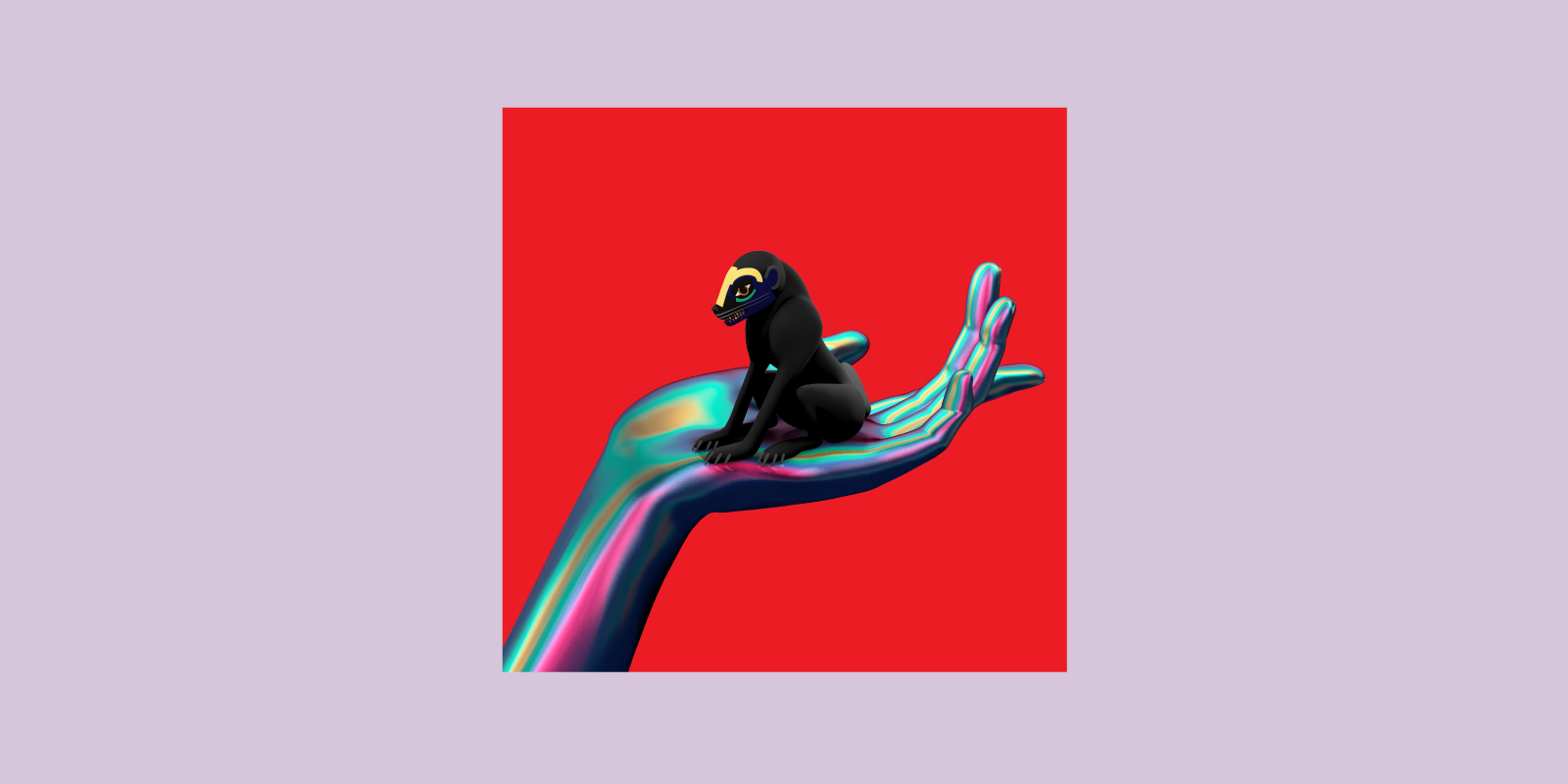 SBTRKT: Wonder Where We Land
Long-term SBTRKT collaborator A Hidden Place created the hyperreal cover for Wonder Where We Land—a powerfully colorful image of a mask-donning dog resting in a stoically silver palm. The duo continued to tell this story in the video for "New Dorp. New York".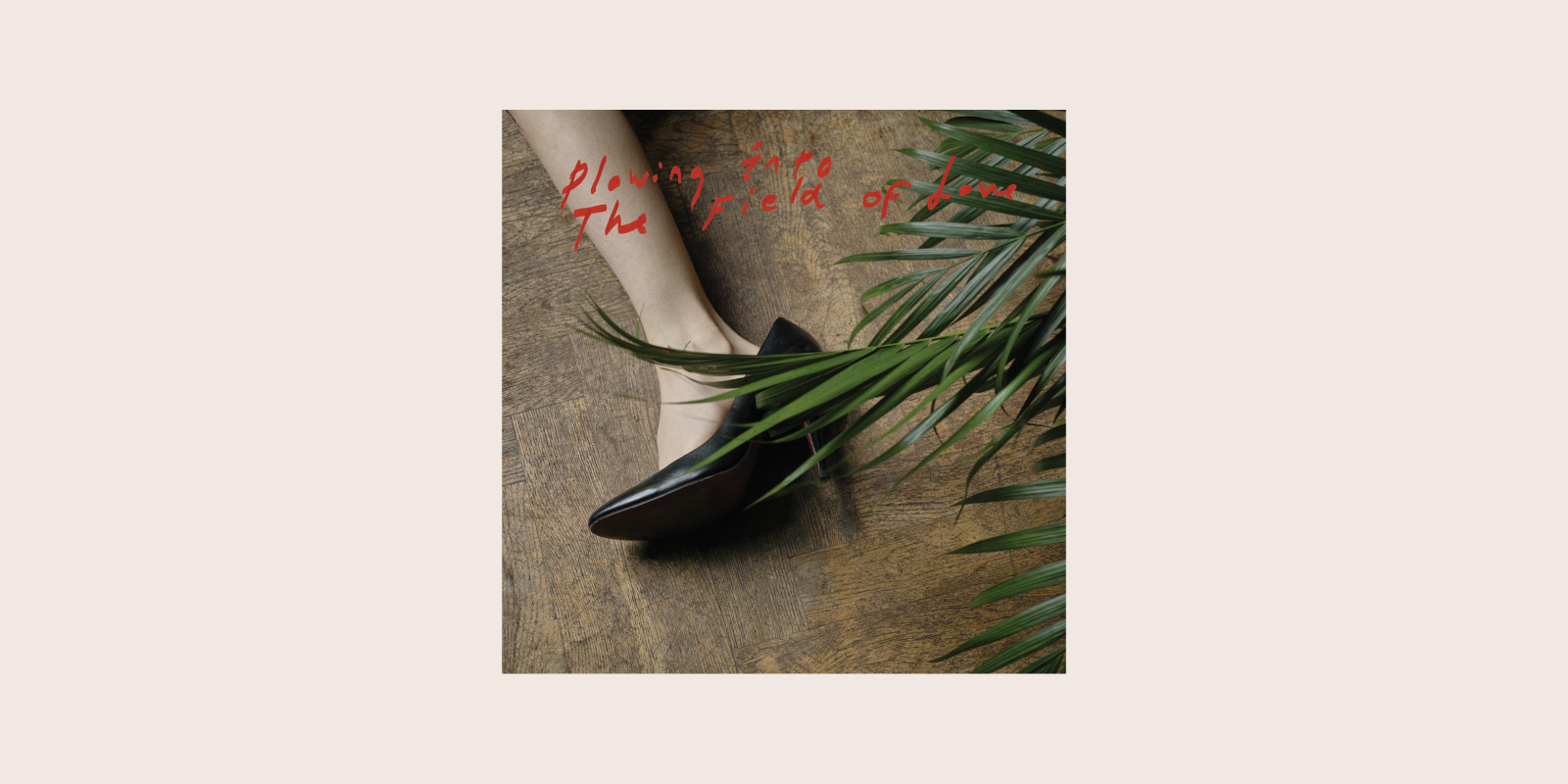 Iceage: Plowing Into the Field of Love
Iceage took a strong left turn this year, and the cover for Plowing Into the Field of Love expertly embodies the reckless lavishness that they've found in their cowpunk sophisticate progression. The gatefold sleeve on the LP houses a small stitched-in lyric sheet, highlighting the elevated presence of singer Elias Bender Rønnenfelt's howling words.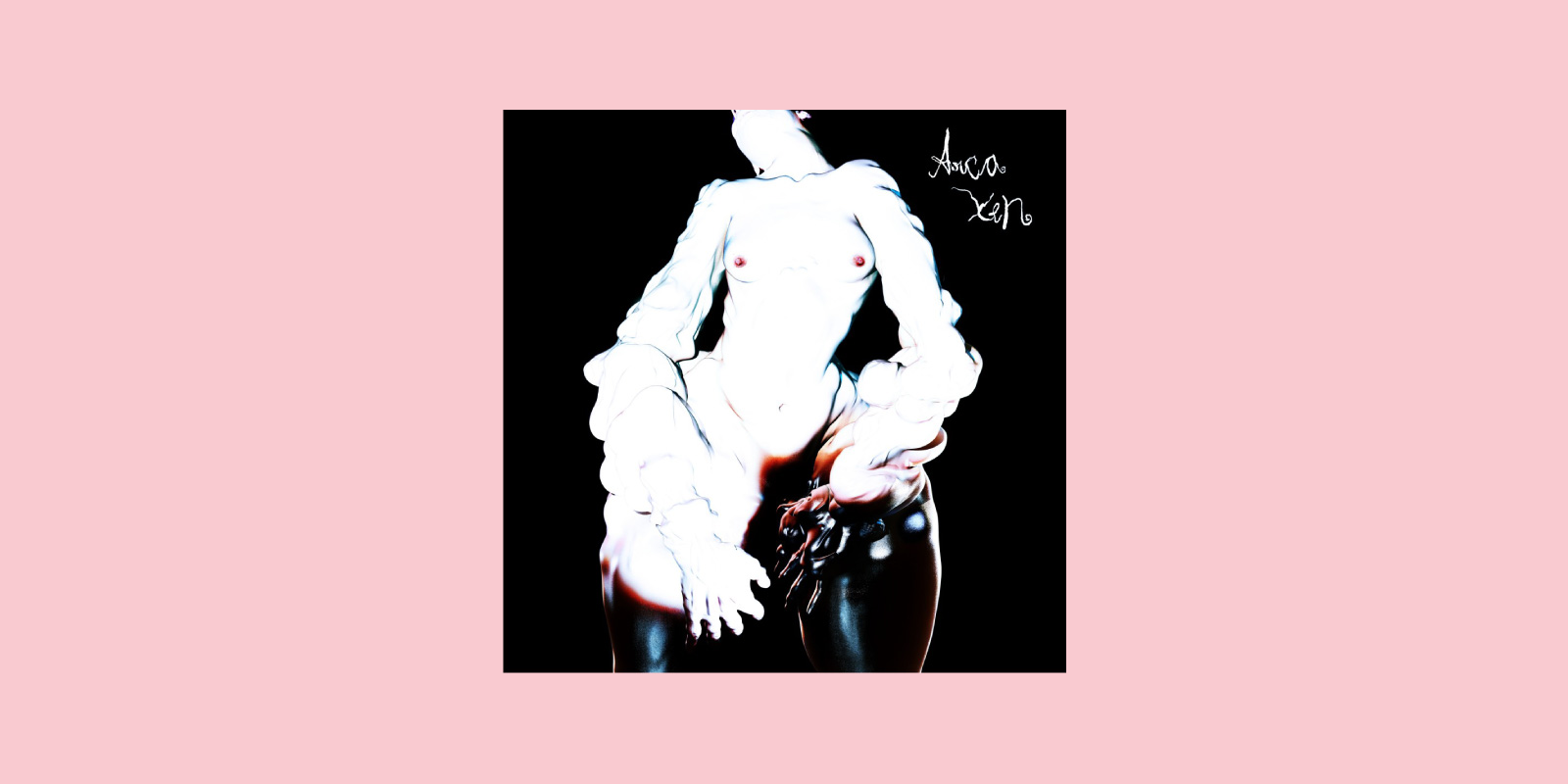 Arca: Xen
Alejandro Ghersi, aka Arca, is close friends with Xen artist Jesse Kanda and their respective warping worlds have seemingly had an effect on one another. The album is cloaked in liquid androgyny and a dark grace that comes from Kanda's instinctual impression of its gooey grit.
http://pitchfork.com...covers-of-2014/