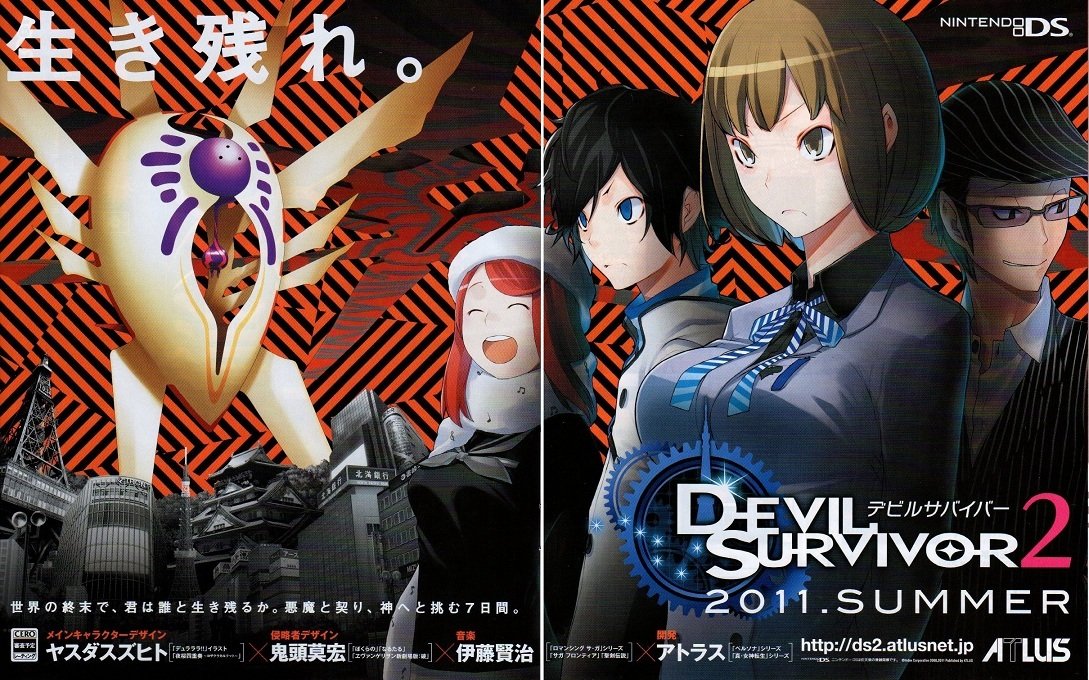 Producer:
Atlus
Developer:
Atlus
Releases:
28 luglio 2011 (jap), 28 febbraio 2012 (usa)
Info varie:
Were you surprised when you first heard Devil Survivor 2's name earlier today and found that it was already due for summer release? It looks like the game is quite far along, as Famitsu lists it as 95% complete!

Sokuho @ Houkanko has a full report on the game, with a few additional details beyond what we covered here.

Here's some of what we missed in our first report:

The game's setting includes major cities throughout Japan rather than just the Tokyo setting of the orgiinal.

The new "Enishi System" expresses the level of friendship you have with your fellow demon users. As this favor level increases, your allies will unlock new skills and more.

In an interview, director Shinjiro Takada said all gameplay systems are being improved. The staff is working to make players feel like all areas have been improved. He also said to expect a game that can be enjoyed repeatedly.

Regarding the three characters who were introduced in our previous article, the unnamed main character, Daichi and Io (who's a girl, not a guy as I previously wrote -- sorry!), the magazine reveals that all three suddenly gain the ability to use demons. They'll use this ability to fight against the invading Septentrion creatures.

The Septentrion invasion begins on a Sunday. They'll make another attack every day. You have seven days to stop them.

Based off the wording in the magazine, it seems that a different Septentrion creature will attack on each day of the week. The magzine introduces the Thursday attacker, who's named Alioth.

Famitsu.com introduces us today to two major character from Devil Survivor 2, the DS sequel to a game that's being remade for 3DS.

Meet Tico and Tico:

One is a guy, one is a girl (you can probably tell which is which).

The two Ticos serve as your guides to "Nicaea," a "dead face delivery site" that's currently running in beta. Nicaea is a rumored site that shows you movies of your friends at death.

You encounter Nicaea in the fall of your third year in high school. As you're returning from your practice college entrance exams, you receive a message from Nicaea saying "A dead face video has been uploaded to Nicaea." Open up the link, and you find that yours is the face that's dead!

Your friends Io and Daichi get similar e-mails. Somehow, all three of you have had your dead faces uploaded to Nicaea, which apparently means you're dead. You next find yourself in the subway. When you come to, you see a shocking sight. (No, Famitsu.com does not say what that sight is.)

As you play through Devil Survivor 2, you'll periodically get e-mails from Nicaea announcing new dead face uploads. These will also serve as hints on how you can help your friends.

How this whole dead face thing will fit in with the rest of the game is unclear at present. The background story of Devil Survivor 2, as originally announced, centers on invading creatures known as the Septentrion. One new Septentrion invades an area of Japan each day of the week.

Joining the looks at Tico, Tico and Nicaea, Famitsu.com provided a look at Fekda, the Tuesday Septentrion that's capable of controlling the wind.

E mentre deve ancora uscire Devil Survivor Over Cloak per 3DS, mi spunta all'improvviso Devil Survivor 2 per DS
- 13 personaggi affronteranno la minaccia sul giappone causata da misteriosi invasori.
- Quest'ultimi saranno disegnati da Mohiro Kitoh, mangaka tra gli altri di Narutaru e Bokurano.
- Più del doppio di demoni recrutabili rispetto al primo.
- riconfermato Yasuda Suzuhito al character design.
- Kenji Ito (Romancing SaGa ps2, SaGa Frontier, Romancin SaGa 1-2-3, ecc.) alla ost.
- l'uscita jap è prevista per l'estate.
da una parte sono perplesso, che senso ha allora quello per 3DS ? dall'altra penso che se su 3DS fosse cmq venuto graficamente quasi identico al primo, meglio su DS che almeno non ho il problema del region lock