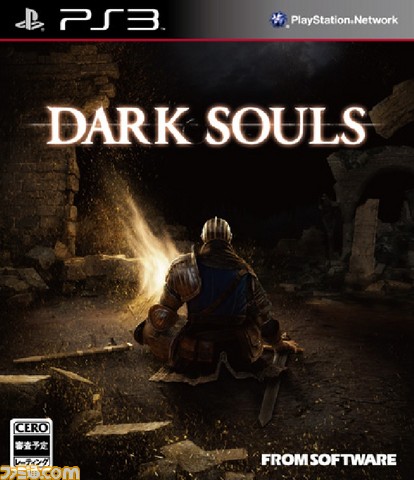 Producer:
Bandai Namco / From Software
Developer:
From Software
Releases:
22 settembre 2011 (jap), 4 ottobre 2011 (usa), 7 ottobre 2011 (pal) - 24 agosto (pc - pal)
Info varie:
Supposed details from the magazine that are appearing in the usual sources for early leaks include:

* The difficulty has been increased greatly over Demon's Souls.
* Dark Souls shares the same themes as Demon's Souls: learning from mistakes and the joy of discovery.
* There's no connection with Demon's Souls in terms of story or world.
* As with Demon's Souls, the basic gameplay is based off classic RPGs -- things like character creation, obtaining weapons and items, leveling up, etc.
* The biggest change, according to Hidetaka, is in the area of exploration. The action battle component is an important element, but on top of this, exploration of a large, seamlessly connected field is an important element. You walk to areas that you can see far off in the distance.
* All the maps are connected, rather than having you move to each area from a shrine. This time, you head off on a journey from a large base of operations, and find smaller bases along the way as you progress further and deeper into your adventure.
* There are far more areas with complex land formations of varying height.
* The goal in character development is to get rid of elements that may hinder freedom of play style. This is why there's no job concept during initial character creation.
* Weapons have a great variety of motions and special capabilities, and there are a great number of magic and item types. This will allow players to play in their own style.
* Regarding network play, Hidetaka said that he can't share too many details, but the game will have cooperative and competitive multiplayer elements. You'll be able to call upon people to help you out when you're stuck.
* The game will also have indirect online elements like the original -- seeing the images of other players, messages from the dead, and so-forth. The game will not have its own servers this time, though, so elements like Soul Tendency from the original will not be here.
* There are some other online elements that will be detailed in future updates.

Dark Souls will be released in Japan in 2011. The game's overseas release on Xbox 360 and PlayStation 3 is being handled by Namco Bandai. Japan will get just the PlayStation 3 version, published by From itself.

"You might laugh because you die so much," Hidetaka Miyazaki, the producer at From Software who worked on Demon's Souls, joked before showing up the spiritual successor, Dark Souls. The hands-off demo began on castle grounds with a conveniently placed orb containing a great sword. In the distance we saw a sleeping dragon guarding another treasure. Players can wake the dragon up, fight it, and procure the treasure. Since this was still early in the game, Miyazaki said it was best to tiptoe around it. The knight fought an undead soldier who relentlessly bashed the hero while Miyazaki was pointing out details about the dragon. Another undead warrior blocking a pass underneath the dragon threw firebombs.



Combat appears to be reminiscent of Demon's Souls. "Tactical swordplay," Miyazaki said speaking of the system. Dark Souls has over one hundred different types of weapons each with their own style. The knight was armed with a standard shortsword, which wasn't too slow or too long. While it was quite effective against the undead droves, it's range could be an issue when battling a minotaur-like mid-boss.



This monster starts the fight by crashing onto a narrow castle path and charging at the player. At the same time, skeletons shooting arrows attack from behind. Miyazaki recommended to take care of the skeletons first by climbing a ladder to a narrow tower. After slaying the skeletons (and effectively stopping a long range attack), the minotaur approached the tower and jumped to the top of it, crushing the knight reveling in his minor victory. "There's no safe place in Dark Souls," Miyazaki laughed. "My goal is to kill all players who think there is a safe zone in Dark Souls." Man and monster leapt of the tower and continued the fight on the balcony, but this time the knight switched to the great sword found at the beginning of the demo. The great sword is expectedly an unwieldy weapon. It lacks finesse, but makes up for its slow strikes with heavy damage and long range. It's possible to defeat the minotaur in a face to face fight. There is a more strategic suggestion, however, you can do a ledge jumping downward slash from the top of the tower to the minotaur's back. Levels are designed for players to take advantage of the environment during fights. I suppose there is no safe zone for monsters in Dark Souls either.



Leaving the castle grounds, Miyazaki showed a foggy forest and then a level he called "Underground Hell." The character in this level had a samurai-feel and was standing right next to lava. We caught a glimpse of enemies staring in the distance. Miyazaki also pointed out areas in Dark Souls have vertical layers. Players can smash barrels, open ledges, and jump off them to explore new areas. Sometimes falling, Miyazaki explained, can put players in a more difficult spot.



The final area Miyazaki revealed was the development team's favorite, Trap Road. As soon as the knight stepped into this level he was greeted with an auto-firing arrow trap and a snake-man (with a slithering head) carrying a scimitar. In the next few rooms, I saw a narrow bridge with swinging guillotines passing by. The trap hit the character and threw him into a level below with even more traps. Miyazaki said if players don't fall for traps they may miss out on some parts of the world.



But, Miyazaki wouldn't show anymore traps. He wants to keep those a secret so players will feel surprised and frustrated when they play Dark Souls this holiday season.

Solid Snake May Be Envious Of This Spell In Dark Souls

Heroes in Dark Souls are armed with weapons and magic, Hidetaka Miyazaki, Producer/Director, explained as a knight shot a small fireball.

Attack spells are fairly straightforward, so Miyazaki took some time to demonstrate some of the more unusual magic From Software added to Dark Souls. One spell transforms your character's body from flesh to iron. While this enchantment protects the hero from sword strikes, it also greatly restricts movement. Imagine wearing three lead vests while walking underwater. That's roughly how the hero moved. Evading attacks was impossible since this spell also canceled the dodge roll. But, who needs to evade attacks when you can resist them in the first place?

Another spell transforms the hero into a tall vase. Similar to Snake from the Metal Gear Series, you can creep through a stage as a background object. This spell isn't designed to decoy enemies, it's made to trick invading players. Miyazaki asked the demonstrator to move to a row of jugs and the knight, dressed as vase, fit right in. Stand still you may be able to pull a surprise attack. Well, that's if the invader doesn't destroy all of the jars they see in their path. Once you attack the vase shatters, revealing the player.

It appears the team at From Software are implementing new elements, like stealth, to suit different play styles.

I'm not going to translate the entire interview because it's huge, if someone else wants to tackle it, feel free and I'll add it to the OP. Meanwhile I'll just highlight the most interesting questions which should kick off some good discussion issues.


Where is Demon's Souls 2?

- 4Gamer asks directly why Dark Souls is not Demon's Souls 2. Miyazaki says that it would be a lie if he says that he never wanted to make a sequel in the first place. Instead various things happened, and they ended up having to make a brand new IP. He is thankful that happened though, because this allowed him to be more creative and to make improvements which change things without feeling the need to conform too much to a defined franchise.


Is Bandai Namco Games going to ruin the game with crossovers and DLC?

- 4Gamer wants to know if Bandai Namco characters will be showing up in the game since they're collaborating. Miyazaki flat out denies this and says the world is incompatible with crossovers in this way, and it would not fit the game.

- 4Gamer then presses on the issue, and asks if From Software will be doing tons of DLC for the game since Bandai Namco is involved in some way. Miyazaki says that he hasn't really thought much about actual DLC content so far, but he doesn't rule it out. What he does rule out specifically is that they will not be selling items or cheats. They will never put out DLC which gives the player an option of paying to get something other than working for it in the game itself. Instead, DLC will only be considered if it fits into the online design and engine of the game, in a way where it is actually interesting to explore such an option.


Is Dark Souls now just an Oblivion knock-off?

- 4Gamer also quizzed the director on whether being a fully seamless world, that Dark Souls would be an open world game like Oblivion. Miyazaki says that the style of the game is very different from Oblivion, and it won't be the sort of open filler exploration world. Instead the concept is to create fully integrated dungeons and to link them to each other in a seamless way. In other words, it will be no different from how Demon's Souls have various stages and parts of stages, but this time they will all be connection seamlessly instead.


Improvements and expansions to the Demon's Souls format.

- In terms of content and play time, Miyazaki says that Demon's Souls takes players on average about 30-40 hours to complete, and contains about 40 enemy types or so. For Dark Souls, he expects the game to last about 60 hours on average, and there will be close to 100 different enemy types.

- Miyazaki outright admits that he feels that the weapon customization/upgrade system in Demon's Souls was somewhat of a failure. He says that while Japanese players seemed to be okay with the complexity and vagueness of the system, overseas players sent many feedback letters which suggested that the system was too complicated and obscure for its own good. This is bad because players cannot fully utilize the system due to their failure to properly explain things. It will be improved in Dark Souls and they are considering this aspect very carefully.


New details on the expanded multiplayer features.

- Miyazaki also sheds the most detail we've heard so far about the new multiplayer systems. For the "sharing of experiences" part, he details it as such that he wants to create the feeling of players helping each other through difficulty parts, but integrated as part of the game. In a comparison, he says he really liked the good old says where people played Dragon Quest and would share their strategies with other players, and people would talk about their different experiences through the game, and in doing so help those who are having difficulty. He says there will be more details later.

- As for the "mutual role playing" system, he wants to create a feeling where other players interact with each other throughout the game even as each player plays their own game. While there are elements of this in Demon's Souls, this system specifically wants to take both co-op play and PvP play to the next level. The example he gives here is Lord of the Rings. In LotR, Frodo discovers the One Ring, which is a valuable item, and he is tasked to keep it and protect it. That is his role. On the other hand, there are the black riders who have long searched for this valuable item throughout the world. When Frodo possesses the ring, their roles clash because of contradicting objectives. If the black rider happens to defeat Frodo and attain the ring, then he is a fortunate player who managed to get what he wants, the player who loses the ring because he failed to protect it is unfortunate...


Miyazaki's promotion.

- Miyazaki is both the director and the producer of Dark Souls, but his job role hasn't really changed. The main reason is that his producer role is as the internal producer of development in From Software, which is pretty much what he did as director anyway. The reason why he is also the producer is because at the time earlier in the project, he had to put the team together and drive development quickly to get the project off the ground. It sounds like he's really the one who made Dark Souls happen.


What's this Dark Ring trademark Bandai Namco Games made last year?

- Some fun trivia about the game title: Right before TGS 2010, the title of the game was Dark Race. The Dark Race would refer to the ones who were cursed in the game. This was going to be the real title and it even had a logo designed. But just before TGS they got feedback that it would sound incredibly racist to the western market. So Miyazaki had like 2 days to come up with a new title. He looked at the logo and said "Well if we can't use Race, let's keep the Dark." and made the placeholder title Project Dark for the announcement.

- After TGS, they took the word Dark from Project Dark to explore new title options. They decided on two titles: Dark Lord and Dark Ring. But Dark Lord was already taken as a trademark apparently, so they settled on Dark Ring instead. Unfortunately for the director, his luck with the English language is terrible, and he was informed before the start of this year that Dark Ring is also a British slang for the anus. Curses! This topic came about because 4Gamer asked him specifically about the Dark Ring trademark that Bandai Namco Games registered in Japan.

- Apparently Dark Ring was chosen because the mark of the curse on a player was that of a circle somewhere on their body. This "Dark Ring" as a sign of the curse was fitting for the title, but it's too bad that it would invoke thoughts of the anus in some people. After this, they settled on Dark Souls.


Where's my Dark Souls demo? Can I play with Japanese players this time?

- Miyazaki says there will probably not be a downloadable demo for the game, although they do plan on making the game playable at various events and playable sessions. The point he made is that the game is not one which can be easily explained or appreciated in a short period of time or in a small segment. He seems to feel that a playable demo of the game would be a waste of time for the developer and the players.

- He also confirms that Dark Souls is not just a worldwide game in terms of release, but also in the the online space. He was disappointed that they could not implement an online system for Demon's Souls where all players could play together, and it's a pity because the online system was specifically designed such that it did not require direct interaction between languages. For Dark Souls you will be able to play with players all over the world.

This week's Famitsu has an updated look at Dark Souls, From Software's spiritual sequel to Demon's Souls.

The big point of note in this update is the "bonfire system." During your exploration, when you encounter a bonfire, you can use that as a starting point to explore further. If you die, you'll restart there. You can also recover your HP at the bonfires. The bonfire can also be used to collect a substance called Est which can be placed in jars and carried around.

Other points mentioned in the Famitsu article:

* When you're connected online, you can see the images of other players.
* There are some enemies who will chase you up ladders. You can kick them down.
* You can summon an undead cursed knight called Kurogane no Kishi, or Black Iron Night (the official English translation will probably be cooler sounding)
* Using magic, you can turn yourself into iron form. However, your movement becomes slow.

The magazine also introduces an NPC called "Mysterious Saintly Woman," a variety of enemies like the Dragon Zombie, and a variety of fields like the Giant Library, the Submerged Ruins, and the Marshes. These are all seamlessly connected, as previously announced.

There's a new preview in this week's Dengeki Playstation, with another interview with the director/producer of the game. Here are some details they discussed:

- They received a lot of feedback from fans after the previous game, and he's really excited to be working on a game which is eagerly expected by so many people, but it also means he feels a lot of pressure on the project. After working for a long time on this game, they're finally nearing the final stage of development, and he's pretty happy about it.

- In regards to news updates about the game, he says that it's a very tricky thing to market this game properly, and the release of information is something that they're trying to get just right. Because the nature of the game is such that it is meant to surprise the player as he/she plays and discovers things, they don't want to give everything away. At the same time, if they don't reveal much at all, it feels like they're not communicating with the fanbase. So he's trying to find a balance.

- Dark Souls is not a story narrative driven RPG, even though it has a story. The game setting is one where the main character is an "Undying" who comes back to life even after being killed. He has cast himself out from normal society.

- There is a new Oath System that is being revealed. This is one of the elements of the mutual roleplaying system previously mentioned. Basically, as the player explores the world and plays the game, there will be certain discoveries which allows the player to make an oath to a person or regarding some subject. Some of these discoveries can be pretty rare.

- When an Oath is made, it determines the player's position on that topic, and that will impact the player's interactions with other players online. This could mean that making an Oath for something could make you allies with another player, or deadly enemies. The Oath System is not an all encompassing fixed alliance like a MMO Guild, instead it should be thought of as a system which serves as a guide for active roleplaying.

- The director also states that one of the most important things in terms of designing the game is emphasizing the importance of healing items and how useful they can be. Because of this, a lot of effort has been put into placing healing items around the world in the right places, so when the player works a little to look for stuff, there is a genuine feeling of satisfaction when such items are found.

- Because of how important healing items are, the Campfire System being used in part to create healing items is something they put in so that beginner players will not find themselves completely stuck when playing the game.

- Dark Souls is going to be a pretty hard game, but the director feels that it is a positive thing because the challenge gives the game value. To actually have challenging gameplay for the player to discover, learn, and overcome makes the game content much more satisfactory and worthwhile. He wants Dark Souls to be considered an "intriguing game", and they're keeping that in mind as they put on the final touches to the game.

- So far, the information released about the game constitutes about 1/5 of the total amount of details they plan on covering regarding the game before release.

When Demon's Souls was released several years ago by Atlus in North America, it was a PS3 exclusive. With the follow up title, Dark Souls coming this year, it will no longer be a PS3 exclusive title as a Xbox 360 version is coming as well. Now, the big question is, which of the two versions is better?

While playing the demo of Dark Souls at the Namco Bandai booth today at the E3 show floor, one of the questions I asked to the Namco Bandai representative is to what are the sacrifices From Software had to do in order to put it on the Xbox 360. A simple answer given to us is, "a lot of compression has to be done on the Xbox 360 to make it stay on a single disc".

When it comes to compressing a game on the Xbox 360, we all know how much quality it loses. For players who are thinking of purchasing Dark Souls on the PS3, expect the data to be uncompressed, thus having better quality in terms graphics and sounds. Take note that the lead platform of Dark Souls is the PS3 and the Xbox 360 is a direct port.

Dark Souls: Prepare to Die Edition will include an untold chapter in the world of Lordran where the player must stop the spread of darkness at all costs by facing and defeating the Dark Knight Artorias.

New Bosses - Including Artorias of Abyss, Chimera of Tomb, and more
PVP Online Matchmaking System - Quick matching for co-op or PVP
New Areas – Including Oolacile Tomb, Old Ruins and more
New Enemies – Including Abyss Guard, Chained Prisoner and more
New NPCs – Including Hawkeye Gough and more
New Weapons and Armor – Equip some from the new bosses, enemies, and NPCs

More details to be revealed...

Lo staff di Demon's Souls ci riprova con un nuovo action rpg, questa volta prodotto da Namco, e in uscita su PS3 e 360 (in jap solo PS3)
sito ufficiale:
http://www.fromsoftw...me/projectdark/
e pdf:
http://www.bandainam.../20100916_2.pdf